Thai Red Curry Beef
Tender beef slices in a warm spicy coconut milk curry served over a soft bed of rice — all the right flavors to keep you coming back for more!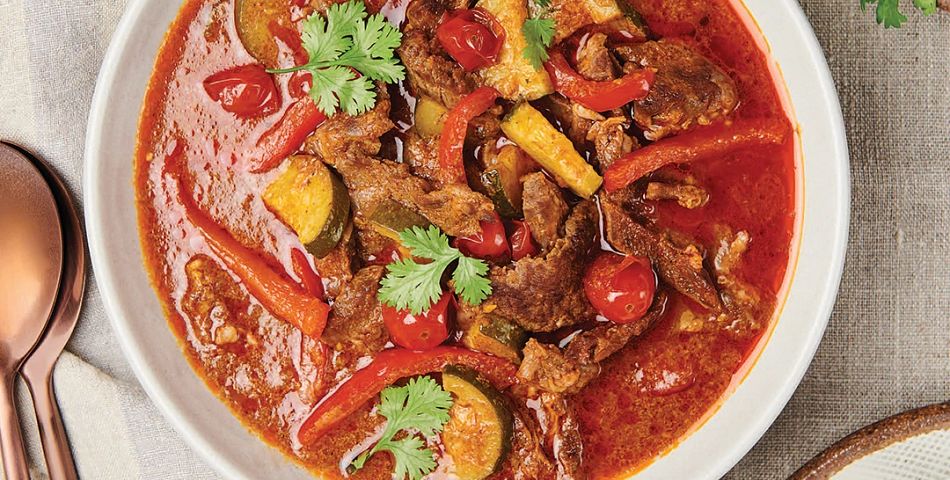 Cook Time:  10 minutes
Prep Time:   35 minutes
Serves:  2 
By:  The Ultimate Instant Pot CB for Two by Janet Zimmerman
Ingredients
14-ounce coconut milk  (1 can)
1-ounce Thai red curry paste (about 2 tablespoons)
12-ounces blade roast or flat-iron steak cut into 1/4- inch thick slices
1/2 small onion sliced
1/2 cup long grain white rice rinsed
1/2 cup plus 1 tablespoon water
1/4 teaspoon kosher salt
1/2 medium zucchini cut into 1/4-inch rounds then cut into half moons
1/2 medium red bell pepper seeded and cut into 1-inch pieces
1/2 pint cherry tomatoes halved
2 tablespoons coarsely chopped fresh basil or cilantro
1/2 teaspoon freshly squeezed lime juice optional
1/2 teaspoon sugar optional
1/4 teaspoon fish sauce or soy sauce optional
Directions
Pour the coconut milk into the inner pot. Add the curry paste and stir to combine. Add the beef and onion.

Place a trivet in the pot that's tall enough to clear the meat.

Place the rice in a heat-proof bowl that holds at least 3 cups. Add the water and salt, and stir to dissolve the salt. Place the bowl on top of the trivet.

Lock the lid into place. Select Pressure Cook or Manual, and adjust the pressure to High and the time to 7 minutes.

While the beef and rice cook, chop the vegetables.

After cooking, let the pressure release naturally for 10 minutes, then quick release any remaining pressure.

Unlock the lid. Carefully remove the rice bowl and trivet. Fluff the rice with a fork and cover with aluminum foil. Set aside.

Select Sauté and adjust to Medium heat. Add the zucchini, bell pepper, and tomatoes and bring to a simmer. Cook, stirring occasionally, for 5 to 6 minutes or until the vegetables are tender. Stir in the basil. Taste and adjust the seasoning as needed with lime juice, sugar, or fish sauce (if using).

To serve, divide the rice between two bowls and top with the curry. You may not need all the sauce.