Texas Red Chili
The sauce for this chili is made with roasted dry chilies that are soaked and then puréed into a sauce. Dried chilies are usually available in the produce department or in the international food section of most grocery stores.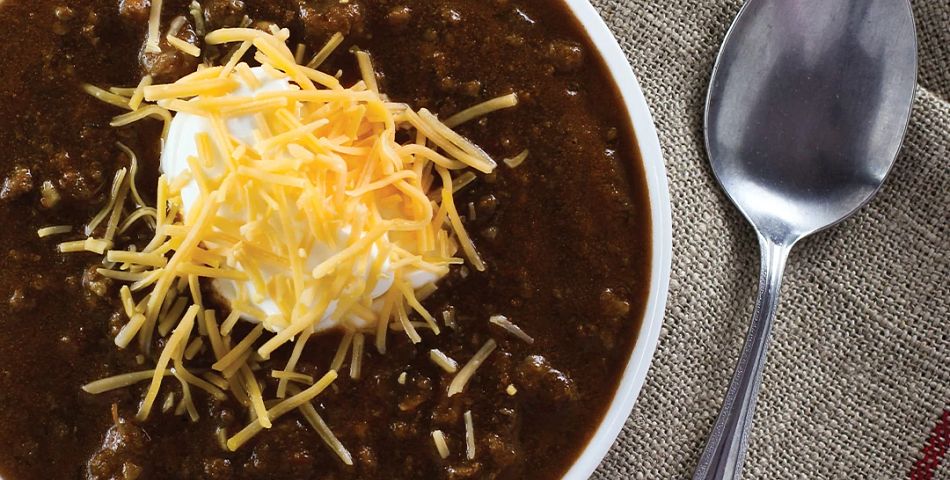 Serves 8
Prep Time 40 minutes
Cook Time 30 minutes
Ingredients
2 dried Anaheim chilies halved and seeded
2 dried New Mexico chilies halved and seeded
1 tablespoon chili powder
1 teaspoon ground cumin
1 can lager (or bock-style beer) divided, 12 ounce
1 tablespoon vegetable oil
2 pounds chili meat made from chuck roast
1 medium onion peeled and chopped
2 garlic cloves peeled and minced
1 tablespoon light brown sugar
1/2 teaspoon salt
1/2 tsp ground black pepper
2 cups beef broth
1 1/2 cups Water divided
1/4 cup corn masa
1 tablespoon lime juice
1 teaspoon hot sauce
Directions
Heat the oven to 350°F.
Place chilies on a baking sheet and roast for 8 minutes. Place chilies in a large heatproof bowl and cover with hot water. Let chilies soak until tender, about 30 minutes.
Drain chilies and place in a blender with chili powder, cumin, and half the beer. Purée until smooth, about 1 minute. Set aside.
Press the Sauté button on the Instant Pot® and heat oil. Add chili meat and brown, stirring often, about 8 minutes. Add onion, garlic, brown sugar, salt, and pepper and cook until onions are just tender, about 10 minutes.
Add chili paste, broth, 1 cup water, and remaining beer. Stir well, scraping any bits from bottom of pot. Press the Cancel button. Close lid, set steam release to Sealing, press the Chili button, and cook for the default time of 30 minutes.
When the timer beeps, let pressure release naturally, about 20 minutes. Open lid and stir well. Press the Cancel button, then press the Sauté button.
In a small bowl mix masa with reserved water. Whisk mixture into the chili, then add lime juice and hot sauce. Bring chili to a boil to thicken, about 5 minutes. Serve hot.