Wonton-Style Meatball Soup
Aromatic, warm, and hearty. Elevate your cooking skills with fan-favorite dish! Your tastebuds will absolutely thank you.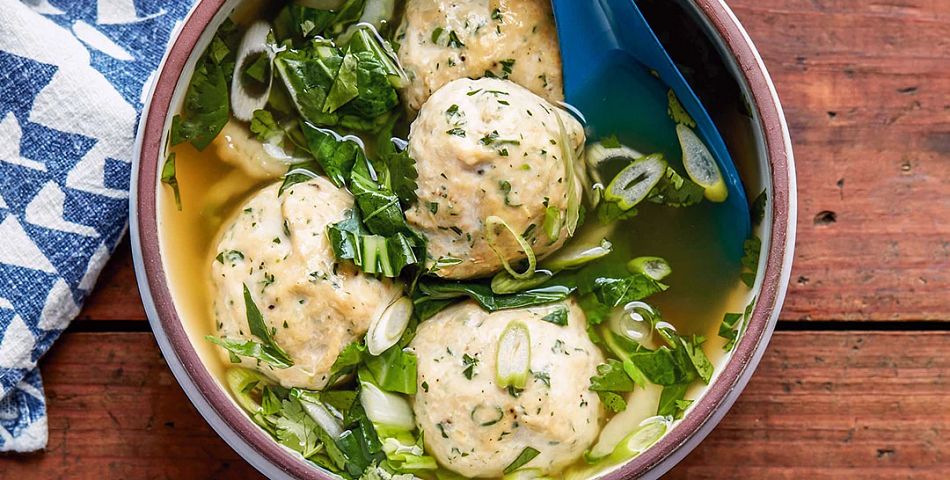 Prep Time: 40 minutes
Cook Time: 5 minutes
Passive Time: 5 minutes
Difficulty:  Medium:
Diet:  Dairy Free, Nut Free, Low Carb
Servings: 4
By: Urvashi Pitre
Ingredients for the Soup
4 cups chopped bok choy
1 cup sliced green onions white and green parts
1/2 cup chopped fresh cilantro
1 tablespoon soy sauce
6 cups low-sodium chicken broth
Ingredients for the Meatballs
1 pound ground chicken or turkey
1/4 cup chopped green onions white and green parts
1/4 cup chopped fresh cilantro or parsley
1 large egg lightly beaten
1 tablespoon minced fresh ginger
3 cloves garlic minced
2 teaspoons soy sauce
1 teaspoon black pepper
1/4 teaspoon kosher salt
1 to 2 tablespoons toasted sesame oil
Directions
For the Soup: In the Instant Pot, combine the bok choy, green onions, cilantro, soy sauce, and broth. Stir well.

For the Meatballs: In a large bowl, combine the ground chicken, green onions, cilantro, egg, ginger, garlic, soy sauce, pepper, and salt. Mix gently. Using your hands or a small scoop, shape the mixture into meatballs. Place the meatballs in the pot.

Secure the lid on the pot. Close the pressure-release valve. Select Manual and set the pot at High pressure for 2 minutes. At the end of the cooking time, allow the pot to sit undisturbed for 5 minutes, then release any remaining pressure.

Stir in the sesame oil and serve. Even Faster Tip: Make a double batch of the meatballs. Freeze one half uncooked, or bake and then freeze so you can make the soup even faster next time.