Sloppy Joes
Packing tons of flavor, there's nothing sloppy about this family-favorite recipe! Easily combine everything in your Instant Pot to create mealtime amazement in minutes!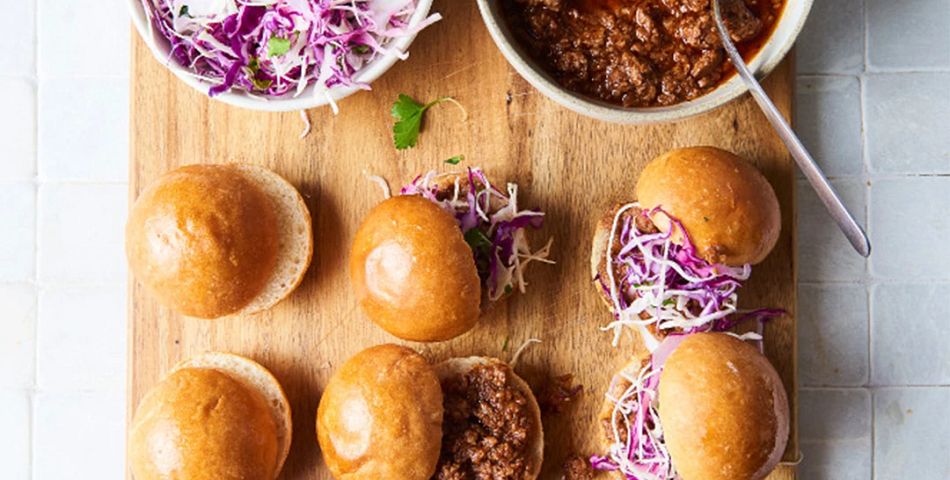 Prep Time: 5 minutes
Cook Time: 10 minutes
Difficulty: Easy
Serves: 8
Cooking Methods: Pressure cook
By: Carrie Forrest
Ingredients
1 tablespoon extra-virgin olive oil
2 pounds 90% lean ground beef
1 teaspoon onion powder
1/2 teaspoon garlic powder
1 teaspoon chili powder
16 ounces tomato puree 1 can
1/2 cup ketchup
2 tablespoons reduced-sodium soy sauce
1 tablespoon brown sugar
Purple slaw for garnish (optional)
Fresh chopped parsley for garnish (optional)
Directions
Select Sauté and add the olive oil to the inner pot. Once the oil is hot, add the ground beef and cook for 3 minutes, using a spatula to break up the meat.
Press Cancel and add the onion powder, garlic powder, chili powder, tomato purée, ketchup, soy sauce, and brown sugar. Stir to combine.
Lock the lid into place. Select Pressure Cook or Manual; set the pressure to High and the time to 10 minutes. Make sure the steam release knob is in the sealed position. After cooking, naturally release the pressure for 10 minutes, then quick release the remaining pressure.
Unlock and remove the lid. Stir the Sloppy Joe mixture to make sure it's well combined.
Serve immediately garnished with purple slaw and parsley, if desired, or place the Sloppy Joes in an airtight container and refrigerate for up to 4 days or freeze for up to 2 months
Recipe Notes
GLUTEN-FREE OPTION: Use tamari in place of the soy sauce.
MEAL PREP TIP: The meat has a ton of flavor, so it's great for leftovers. Besides serving it on a bun or over potatoes, you can also serve it on top of a salad for a low-carb option.