Massaman Curry with Tofu and Kabocha Squash
Feeling hot, hot, hot? Dive into the world of chilies with our vegan-friendly, Thai-style, Massaman Curry.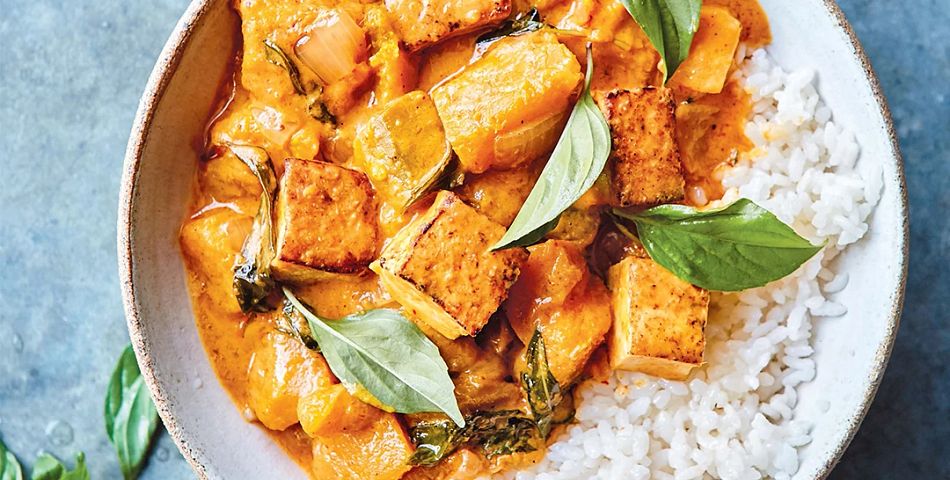 Prep Time: 2 minutes
Cook Time: 9 minutes
Difficulty: Medium
Diet:  Vegan
Serves: 4
Cooking Methods: Multicooker
By: The Essential Vegan Instant Pot Cookbook by Coco Morante
Ingredients
14-ounces tofu 1 block firm, drained
1 tablespoon coconut oil
1 large yellow onion cut into 1-inch pieces
1/2 cup coconut cream
1/4 cup Massaman curry paste
1 cup low sodium vegetable broth
1 Kabocha squash seeded and cut into 1-inch cubes, 1-1/2-pound
1 cup coconut milk
1 cup fresh Thai basil leaves loosely packed
Hot steamed rice for serving
Directions
Cut the tofu into 1/2-inch slices. Sandwich the slices in a single layer between double layers of paper towels or a folded kitchen towel and press firmly to wick away as much moisture as possible. Cut the slices into 1/2-inch cubes. Set aside.
Select the High Sauté setting on the Instant Pot, add the coconut oil, and melt. Add the onion and sauté for 4 minutes, until the onion starts to brown. Add the coconut cream and curry paste and sauté for 2 minutes more, until bubbling and fragrant. Stir in the broth, using a wooden spoon to nudge loose any browned bits from the pot bottom, then add the squash in a single layer.
Secure the lid and set the Pressure Release to Sealing. Press the Cancel button to reset the cooking program. Then select the Manual or Pressure Cook setting and set the cooking time for 1 minute at Low pressure. (The pot will take about 10 minutes to come up to pressure before the cooking program begins.)
When the cooking program ends, perform a quick pressure release by moving the Pressure Release to Venting. Open the pot and stir in the coconut milk, then add the tofu. Press the Cancel button to reset the cooking program. Then select the Sauté setting. Let the curry come up to a simmer and cook for 2 minutes, stirring occasionally and gently, being careful not to break up the tofu. Press the Cancel button to turn off the pot. Gently stir in the basil.
Ladle the curry into bowls. Serve piping hot with the rice on the side.