Lemon and Herb Chicken
Preparing a full rotisserie style chicken dinner during the week is a real feat… but having it ready in 25 minutes? Oh yes, just put this recipe to the test!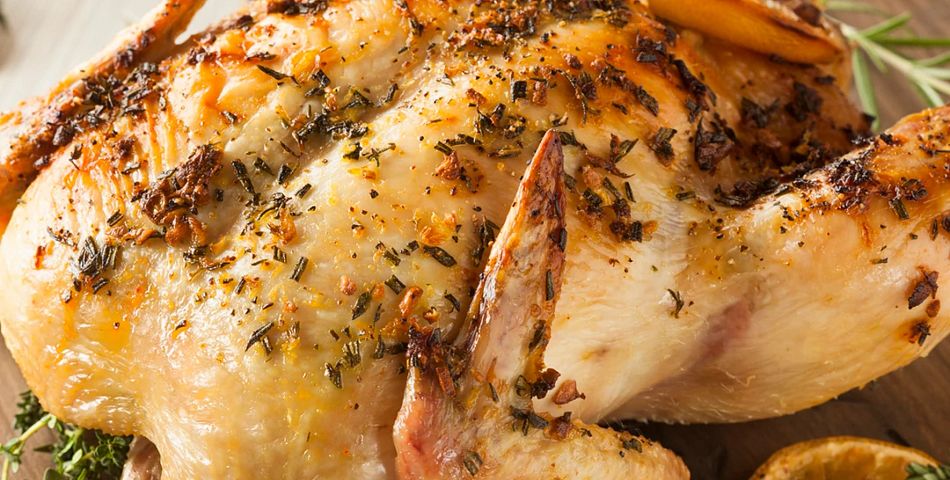 Prep Time:  20 minutes
Cook Time:  25 minutes
Serves:  6
By:  Kellyann Petrucci
Ingredients
4 pound whole chicken giblets removed and chicken rinsed
1 tablespoon olive oil
1 tablespoon butter or ghee, melted
1 teaspoon Pink Himalayan salt or Celtic salt
1/2 teaspoon black pepper freshly ground
1 cup chicken bone broth
1/2 lemon cut in slices
1/2 yellow onion quartered
2 cloves garlic
Several sprigs herbs fresh thyme, fresh rosemary, Italian parsley, and fresh sage
Directions
Rub the chicken breast with the olive oil and butter/ghee and season the entire chicken with salt and pepper.
Preheat your Instant Pot by using the Saute' setting, and place the chicken in the cooker breast side down.
Brown the chicken for about 2 minutes or until the breast is golden brown, but not burned. Remove the chicken from the cooker place on a plate.
De-glaze the pan with the chicken bone broth.
Put the lemons, onions, garlic, and fresh herbs into the cavity of the chicken and return to the Instant Pot.
Place the trivet inside the Instant Pot and place the chicken on the trivet; it makes removing the chicken from the pot easier. (this is optional but will make things easier)
Using the Manual setting, adjust the instant pot to High pressure and adjust cooking time to 20 minutes.
When time is up, allow pressure to naturally release and test the chicken for doneness. A thermometer inserted into the thigh should register at least 170 degrees Fahrenheit
If necessary, bring the cooker back to high pressure and cook for another 5 to 10 minutes. Quick release and recheck the temperature.
Transfer the chicken to a plate or carving board, tent with foil and allow to rest. If desired, strain and de-grease the broth using a fat separator.
Carve the chicken and pour part of the broth on the carved meat and serve the rest on the side. Serve and enjoy!