Vortex Plus - Crispy Honey BBQ Wings
On-the-bone wings cooked to crisp perfection without oils or starches, then coated in a homemade honey BBQ sauce. (Ace Blender recipe included, with a stovetop alternative).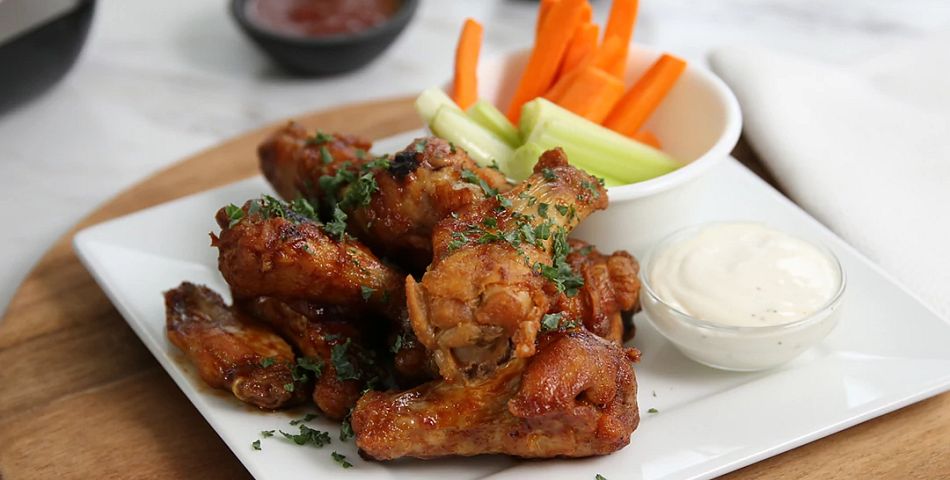 Prep Time: 0 hours
Cook Time: 25 minutes
Servings: 2-4 servings
Ingredients
2 pounds chicken wingettes and drumettes
1/2 cup ketchup
3 tablespoons White vinegar
2 tablespoons molasses
2 tablespoons honey
1/2 teaspoon liquid smoke
1/4 teaspoon paprika
1/4 teaspoon garlic powder
Pinch of cayenne 
Directions
Divide the wings onto two cooking trays, leaving space between each piece.

Place the drip pan in the bottom of the cooking chamber. Using the display panel, select AIRFRY, then adjust the temperature to 380°F and the time to 25 minutes, then touch START.

When the display indicates "Add Food" insert one cooking tray in the top-most position and one tray in the bottom-most position.

When the display indicates "Turn Food" turn the food over AND switch the cooking trays so that the one that was in the top-most position is now in the bottom-most position, and vice-versa.

Meanwhile, in an Ace Plus Blender, combine remaining ingredients and cook on Soup 1 for 10 minutes (or alternatively, simmer in a saucepan, stirring occasionally for 10 minutes).

When the AirFry program is complete, toss with the sauce and serve hot.