Apple Crumble Cobbler
Whether you're cozied up by a roaring fire as the snow falls or you took your Instant Pot with you on a camping trip, apples and spice make everything nice.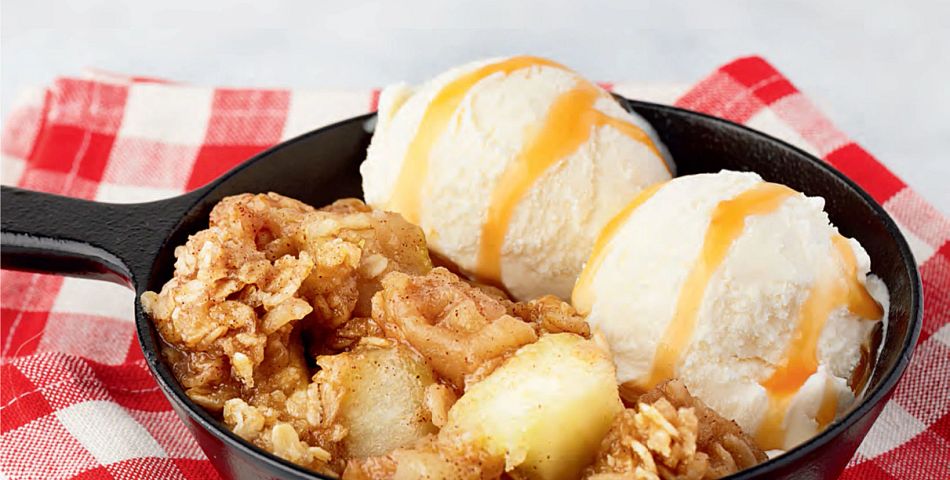 Prep Time:  10 minutes
Cook Time:  12 minutes
Passive Time:  30 minutes
Course:  Dessert
Serves:  4
Cooking Technique: Pressure Cook
By:  Jeffrey Eisner 
Ingredients:
5 Granny Smith apples cored, peeled, and cut into 1-inch cubes, at room temperature
2 teaspoons ground cinnamon
1/2 teaspoon ground nutmeg
2 tablespoons maple syrup
2 tablespoons caramel syrup plus more for topping at the end
1/2 cup water
4 tablespoons salted butter (1/2 stick)
1/3 cup light brown sugar
3/4 cup old-fashioned oats not the instant kind
1/4 cup all-purpose flour
1/2 teaspoon sea salt
Vanilla ice cream for serving
Instructions:
Place the apples in the Instant Pot and top with the cinnamon, nutmeg, maple syrup, caramel syrup, and water. Stir together well until a liquid consistency is reached and the apples are coated.
Create the topping: In a microwave-safe bowl, melt the butter, then add the brown sugar, oats, flour, and salt. Mix well and pour over the apple mixture in the pot.
Secure the lid, move the valve to the sealing position, and hit Manual or Pressure Cook on High Pressure for 2 minutes. When done, allow a full natural release (this will take 20–30 minutes).
Serve right out of the pot, topped with vanilla ice cream and some more caramel sauce, if desired.
Recipe Notes:
Jeff's Tip: This recipe works perfectly in a 6-quart Instant Pot, but if making in the 8-quart, be sure to double it. We aren't adding a whole lot of liquid as written and the extra circumference of the larger pot may have issues coming to pressure.
Want more of that amazing topping? Double the butter, flour, oats, brown sugar, and salt.
If you want to give it some crisping and you have the Instant Pot Duo Crisp, add the crisping lid and hit Air Fry at 400°F for 5 minutes before serving.