Eggplant Parmigiana Pasta
Warm, cheesy, goodness! This classic Italian dish is a great way to sneak in a good dose of veggies for those picky eaters in your life.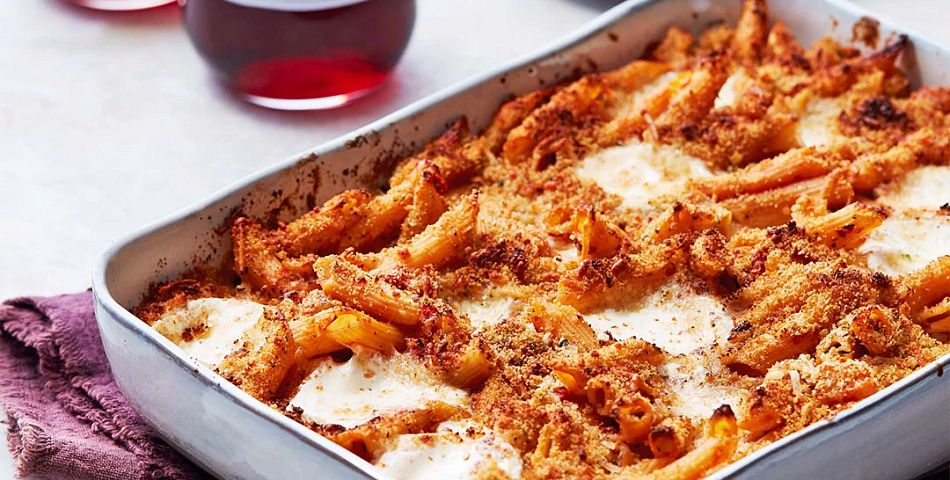 Prep Time: 12 minutes
Cook Time: 15 minutes
Passive Time: 10 minutes
Servings: 6 - 8
Difficulty: Easy
Diet:  Vegetarian
Serves: 6 – 8
Cooking Method:  Pressure Cook
By: Urvashi Pitre
Ingredients
4 cups Eggplant, peeled and chopped
1 can diced tomatoes (14-ounces)
1/2 cup water
1 cup diced onion
3 tablespoons unsalted butter or vegetable oil
3 garlic cloves minced
1 tablespoon tomato paste
1 tablespoon dried Italian seasoning
1/2 teaspoon kosher salt
1 teaspoon red pepper flakes
9 ounces penne pasta, 2 cups
1/2 cup bread crumbs
1/3 cup shredded Parmesan cheese
1-1/2 cups small mozzarella balls, bocconcini (8-ounce tub)
Directions
In the Instant Pot, combine the eggplant, tomatoes, water, onion, 2 tablespoons of the butter, garlic, tomato paste, Italian seasoning, salt, and red pepper flakes. Stir to combine.
Add the pasta, and stir. I know it doesn't look like there will be enough water to cook the pasta. But #trustUrvashi, because the vegetables will release a lot of water. Secure the lid on the pot. Close the pressure-release valve. Select Manual / Pressure Cook and set the pot at High pressure for 7 minutes. At the end of the cooking time, allow the pot to sit undisturbed for 10 minutes, then quick-release any remaining pressure.
Meanwhile, in a small skillet, melt the remaining 1 tablespoon butter over medium heat. Add the bread crumbs and mix well. Remove from the heat; allow to cool. Mix with the Parmesan cheese and set aside.
Preheat the broiler. Add the mozzarella balls to the pasta, and transfer the pasta to a casserole dish. Sprinkle with the bread crumb mixture and broil for 2 to 3 minutes. Serve.