Cheddar-Herbed Strata
Surprise mom with this keto-friendly recipe - perfect for weekday breakfasts. Mix and match her favorite veggies and fuel up her day!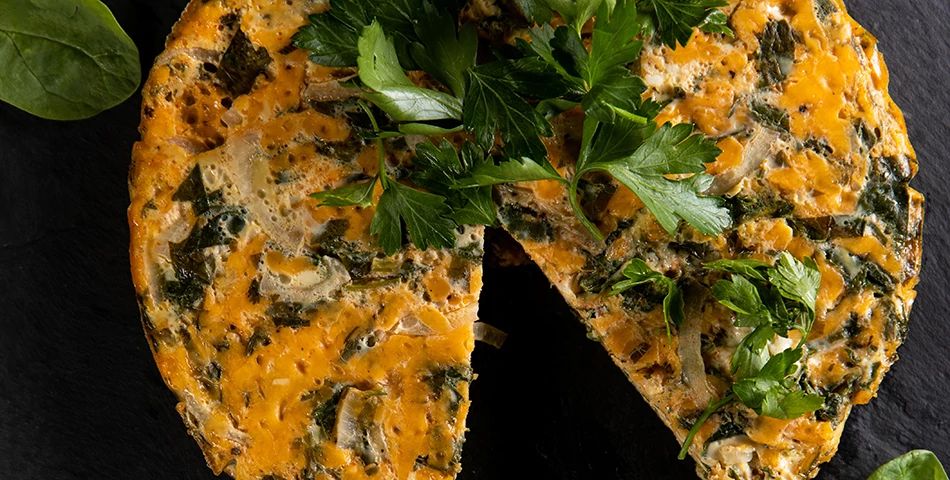 Prep Time: 5minutes
Cook Time: 40 minutes
Diet:  Gluten Free, Keto, Low Carb
Cooking Technique:  Pressure Cook
Serves:  4
By: Essential Keto Instant Pot Cookbook by Casey Thaler
Ingredients
6 eggs
1 cup full-fat Cheddar cheese shredded
1 cup spinach chopped
1/2 tablespoon salted grass-fed butter softened
4 ounces onion (1/4 small onion) thinly sliced
1/2 teaspoon freshly ground black pepper
1/2 teaspoon kosher salt
1/2 teaspoon Dijon mustard
1/2 teaspoon paprika
1/2 teaspoon cayenne pepper
1/2 teaspoon cilantro dried
1/2 teaspoon sage dried
1/2 teaspoon parsley dried
Directions
Pour 1 cup of filtered water into the inner pot of the Instant Pot, then insert the trivet. In a large bowl, combine the eggs, cheese, spinach, butter, onion, black pepper, salt, mustard, paprika, cayenne pepper, cilantro, sage, and parsley. Mix thoroughly. Transfer this mixture into a well-greased, Instant Pot–friendly dish.

Using a sling if desired, place the dish onto the trivet, and cover loosely with aluminum foil. Close the lid, set the pressure release to Sealing, and select Manual / Pressure Cook . Set the Instant Pot to 40 minutes on high pressure and let cook.

Once cooked, let the pressure naturally disperse from the Instant Pot for about 10 minutes, then carefully switch the pressure release to Venting.

Open the Instant Pot and remove the dish. Let cool, serve, and enjoy!
Recipes Notes
NUTRITION FACTS PER SERVING:  Calories 179 | Fat 14.5g | Protein 10.3g | Dietary Fiber 0.6g | Carbohydrate 2g | Sugar: 0.8g