Brisket Skewers
These tenderized brisket skewers are extremely hard to make without a multi-cooker. So, if you got it, flaunt it! We promise, everyone will love this savory and snackable treat.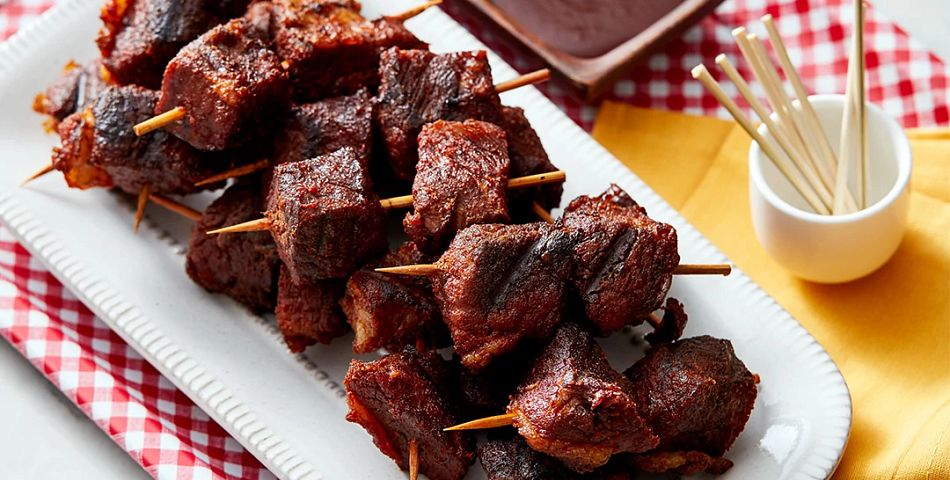 Prep Time: 10 minutes
Cook Time: 50 minutes
Difficulty: Medium
Servings: 4-6
Cooking Methods: Max pressure cook
By: Bruce Weinstein
Ingredients
2 pounds flat- or first-cut lean brisket cut into 1 1/2 inch cubes
1 tablespoon mild smoked paprika
1 teaspoon onion powder
1/2 teaspoon garlic powder
1/2 teaspoon table salt
12-16 bamboo or metal skewers 4-inch
1 cup Water
3 1/2 ounce liquid smoke (1 bottle)
Directions
Toss the brisket cubes, smoked paprika, onion powder, garlic powder, and salt in a large bowl until the meat is evenly and thoroughly coated. Thread two cubes onto each of the skewers.

Pour the water and liquid smoke into a the cooker. Set a heat- and pressure-safe trivet in the pot. Pile the skewers onto the trivet. Lock the lid onto the pot.

Optional 1 Max Pressure Cooker
Press Pressure cook on Max pressure for 42 minutes with the Keep Warm setting off.

Optional 2 All Pressure Cookers
Press Meat/Stew or Pressure cook (Manual) on High pressure for 50 minutes with the Keep Warm setting off.

When the machine has finished cooking, turn it off and let its pressure return to normal naturally, about 20 minutes. Unlatch the lid and open the pot.

Heat a large cast-iron grill pan over medium-high heat until smoking or brush the grill grates and prepare the grill for high heat cooking directly over the heat source. Grill the skewers (in batches in the grill pan) until crisp and browned, about 2 minutes, turning occasionally.
Recipe Notes
 For a 3-quart cooker, use 1 cup water but halve the remaining ingredients.
 For an 8-quart cooker, you must use 2 cups water and increase the remaining ingredients by 50 percent—or simply increase the water to 2 cups (while keeping the stated amounts of the other ingredients).
 Serve the skewers with salsa verde, regular salsa, or even barbecue sauce for dipping.
 Make these skewers ahead of time. Cook them through step 4, then cool for a few minutes with the pot open. Use kitchen tongs to remove the trivet underneath them, then store the skewers (and meat) right in the steaming medium. Cool for 20 minutes, then remove the insert from the machine, cover the insert with plastic wrap, and store it in the fridge for up to 24 hours. Grill the skewers as extra minute or so to warm them up.