Beef Bourguignon
Impress mom with an early Mother's Day gift by making this fabulous French Classic! What usually take hours can now be made in minutes making it a perfect weeknight dish!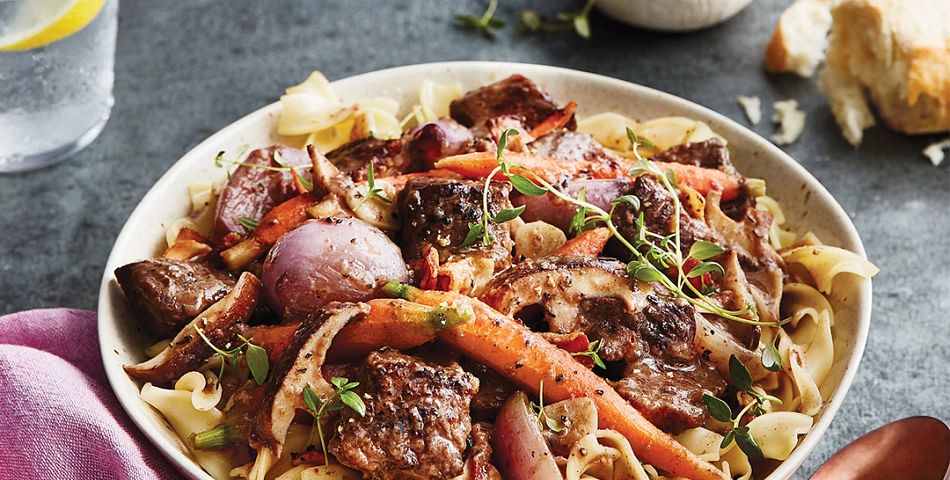 Prep Time: 10 minutes
Cook Time: 23 minutes
Difficulty: Medium
Serves: 7
Course: Dessert / Breakfast
Cooking Methods: Pressure Cook
By:  Time Inc.
Ingredients
1/4 cup all-purpose flour
1/2 teaspoon salt
1/2 teaspoon black pepper freshly ground
1-1/2 pounds boneless chuck roast trimmed and cut into 1-inch cubes
2 bacon slices diced
1/2 cup dry red wine
10-1/2 ounces beef broth, 1 can
3 cups baby carrots
2 cups shiitake mushroom caps sliced
2 teaspoons thyme dried
6 shallots halved
4 garlic cloves thinly sliced
7 cups medium egg noodles hot cooked, about 5 cups uncooked pasta
Thyme leaves, optional
Instructions
Weigh or lightly spoon flour into a dry measuring cup; level with a knife. Combine flour, salt, and pepper in a large zip-top plastic bag. Add beef; seal and shake to coat.
Remove lid from the Instant Pot®. Press [Sauté], and use [Adjust] to select "More" mode. Place bacon in cooker, and cook, stirring constantly, 30 seconds.
Add half of beef mixture to cooker; cook for 5 minutes, browning on all sides. Remove beef and bacon from cooker. Repeat procedure with remaining beef mixture.
Turn cooker off. Return cooked beef and bacon to cooker. Stir in wine and broth, scraping inner pot to loosen browned bits (de-glazing). Add carrots, mushrooms, thyme, shallots and garlic.
Close and lock the lid of the Instant Pot®. Turn the steam release handle to "Sealing" position. Press [Manual]; select "High Pressure," and use [-] or [+] to choose 23 minutes pressure cooking time. When time is up, turn cooker off. Open the cooker using Quick Pressure Release.
Serve beef mixture over noodles. Garnish with thyme leaves, if desired. Enjoy!