Amazing Potato Salad
Potato Salad is a real summer favorite-dish! Toss in some parmesan, bacon, and a few lightly chopped hard-boiled eggs, and you've got yourself a new modern take on a delicious classic!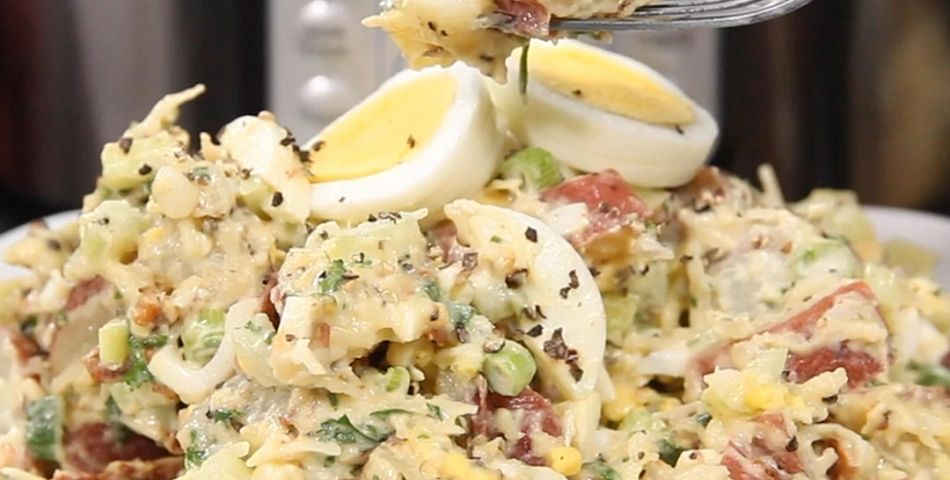 Prep Time: 5 minutes
Cook Time: 20 minutes
Difficulty: Easy
Serves: 8-10
Cooking Methods: Pressure cook
By: Chop Secrets
Ingredients
2 1/2 pounds red potatoes or gold, cut into bite-sized pieces
4 eggs
1 tablespoon distilled white vinegar
1/2 cup mayonnaise
2 teaspoon Dijon mustard
1/2 cup diced celery
2 scallions thinly sliced
2 tablespoons flat-leaf parsley chopped
1 cup crispy crumbled bacon
1/2 cup parmesan grated
1 tablespoon pepper
Additional chopped parsley and scallions for garnish optional
Directions
Pour 1 1/2 cups of water in the Instant Pot and insert the steam rack. Place cubed potatoes in a steamer basket and lower steamer basket onto the steam rack. Add eggs on top of the potatoes.
Secure the lid, making sure the vent is closed.
Using the display panel select the MANUAL or PRESSURE COOK function*. Use the +/- keys and program the Instant Pot for 5 minutes.
When the time is up, quick-release the pressure.
Remove eggs and place in an ice bath. Sprinkle 1 tbsp vinegar over the potatoes and allow to cool.
Keep eggs in ice bath for 5 minutes, then peel and chop.
Meanwhile, in a large bowl whisk together mayonnaise and dijon. Mix in celery, scallions, and parsley.
Fold in cooked potatoes, chopped eggs, crumbled bacon, parmesan and pepper. Season to taste.
Serve chilled garnished with additional chopped parsley and scallions (optional).
Recipe Notes
The MANUAL and PRESSURE COOK buttons are interchangeable.