Porcupine Meatballs In Tomato Sauce
Packed with meat, veggies, and rice — these Porcupine Meatballs are a fun & healthy dish for both kids and grown-ups alike!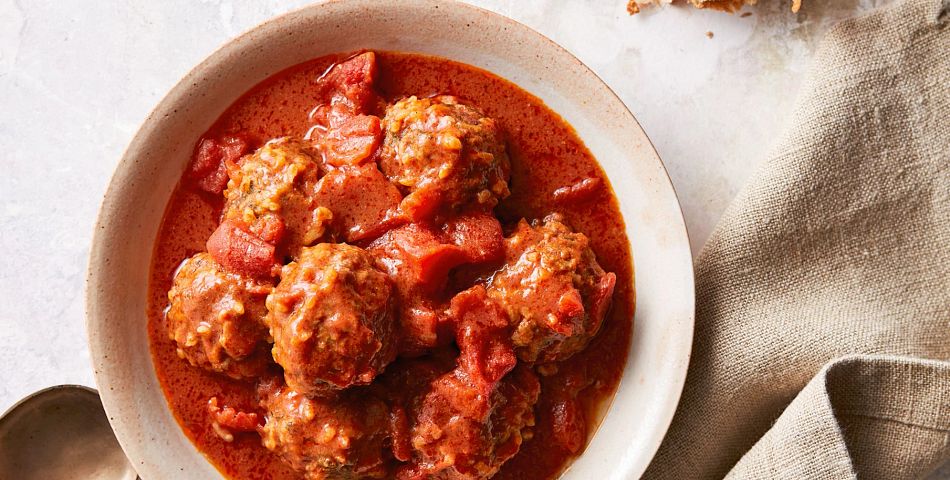 Cook Time:  15 minutes
Prep Time:   35 minutes
Serves:  6
By:  Instant Pot Fast and Easy Cookbook by Urvashi Pitre
Ingredients
FOR THE MEATBALLS
1 pound ground beef
1 large egg slightly beaten
1/2 cup finely chopped yellow onion
1/3 cup Arborio rice
1/4 cup chopped fresh parsley
Salt and black pepper
FOR THE SAUCE
14.5-ounce diced tomatoes, 1 can undrained
1 cup water
1 teaspoon dried oregano
1/2 teaspoon ground cinnamon
1/2 teaspoon smoked paprika
1/4 teaspoon ground cloves
Salt and black pepper
Chopped fresh parsley for garnish (optional)
Directions
For the meatballs: In a large bowl, combine the ground beef, egg, onion, rice, and parsley and season with salt and pepper. Mix until well combined. Shape the mixture into 8 to 10 meatballs. Place in a single layer in the Instant Pot.

For the sauce: In a medium bowl, combine the tomatoes with their juices, water, oregano, cinnamon, paprika, and cloves and season with salt and pepper. Stir to combine and pour over the meatballs.

Secure the lid on the pot. Close the pressure-release valve. Select Manual or Pressure Cook and set the pot at High pressure for 15 minutes. At the end of the cooking time, allow the pot to sit undisturbed until the pressure has released.

Carefully transfer the meatballs to a serving bowl. Use an immersion blender to puree the sauce directly in the pot until smooth, if desired. Pour the sauce over the meatballs.

Garnish with parsley, if desired, and serve.