Pasta Puttanesca
We can't think of many recipes that are this simple to prepare — just add the ingredients and come back to a fantastic pasta dinner! It doesn't get much easier!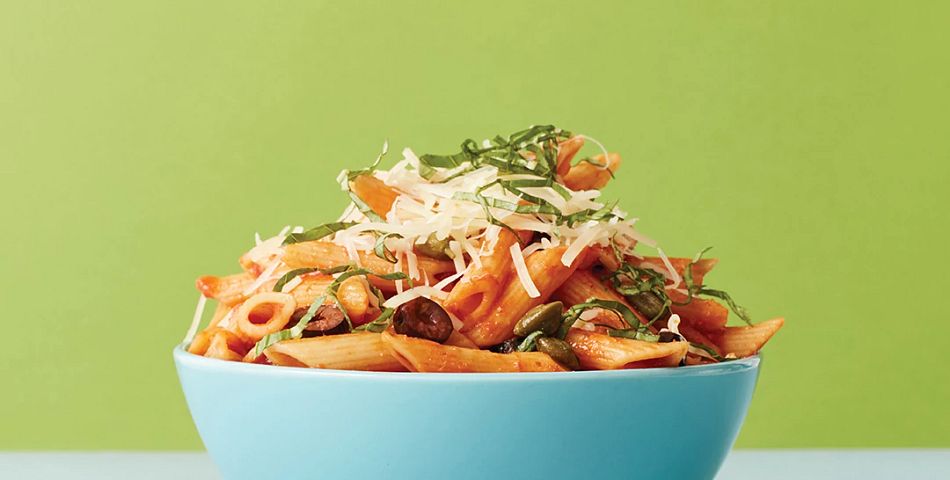 Prep Time:  5 minutes
Cook Time:  15 minutes
Serves:  6
By:  The Instant Pot College Cookbook by Julee Morrison
Ingredients
3 garlic cloves minced
32-ounce jar pasta sauce, 1 can
3 cups water
4 cups dried pasta such as penne or rigatoni
1/4 teaspoon crushed red pepper flakes
1 tablespoon Capers
1/2 cup pitted kalamata olives sliced
1 teaspoon fine sea salt
1/4 teaspoon ground black pepper
2 teaspoon grated lemon zest
Directions
ASSEMBLE THE INGREDIENTS
Combine all of the ingredients in the inner cooking pot and stir to coat the pasta.
PRESSURE COOK
Lock the lid into place and turn the valve to "sealing." Select Manual or Pressure Cook and adjust the pressure to High. Set the time for 5 minutes. When cooking ends, carefully turn the valve to "venting" to quick release the pressure. Unlock and remove the lid.
Recipe Notes
Variation tip: If you eat fish, go ahead and add anchovies for additional flavor. Use 2-ounce (1 can) of anchovies packed in oil (drained), adding it to the pot along with the other ingredients. I think their salty, pungent flavor offsets the sweetness of a typical tomato-based sauce.