Mongolian Beef and Rice
Once you open the lid and see that perfect fluffy rice, and tender beef you'll see what we mean when talking about "Pot in Pot" magic!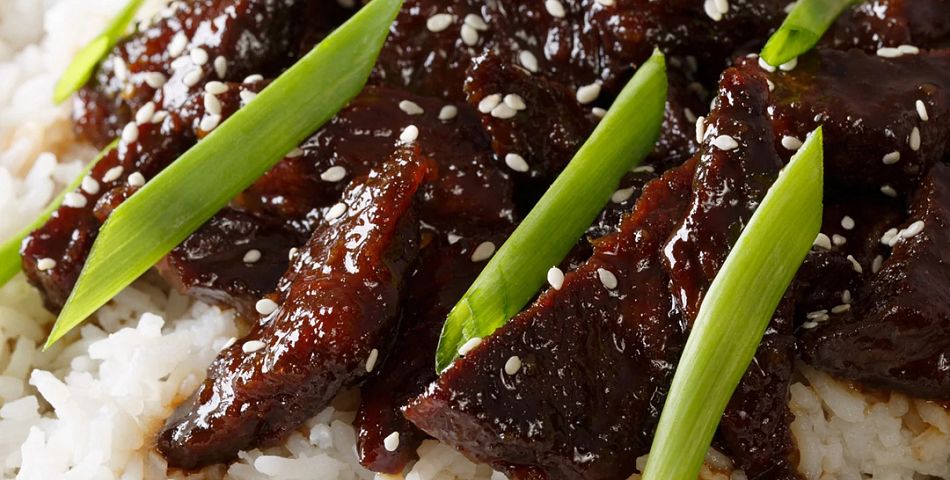 Prep Time:  5 minutes
Cook Time:  35 minutes
Serves:  4 - 6
By:  Chop Secrets
Ingredients
MEAT MIXTURE
1 tablespoon olive oil 
1 tablespoon cornstarch 
1-1/2 pounds flank steak sliced across the grain into bite-sized pieces
SAUCE MIXTURE
1 cup water 
1/2 cup soy sauce 
1/2 cup brown sugar
10 cloves garlic minced
1 tablespoon fresh ginger minced
1/4 teaspoon cayenne 
RICE MIXTURE
2 cups long grain white rice rinsed
2-1/4 cups water
TO FINISH
2 tablespoons cornstarch 
4 green onions green tops only, cut into 2-3 inch lengths
Sesame seeds for garnish
Directions
Add olive oil to the Instant Pot. Using the display panel select the Saute' function.
Add beef and cornstarch to a large bag or bowl and mix to coat beef evenly.
When oil gets hot, brown the meat on both sides, 2-3 minutes per side. Meat will not be cooked through. Do not crowd the pot--you may have to work in batches.
Add the Sauce Mixture ingredients to the pot and de-glaze by using a wooden spoon to scrape the brown bits from the bottom of the pot.
Turn the pot off by selecting Cancel, then secure the lid, making sure the vent is closed.
Place rinsed rice and water in a separate cooking pan with at least a 7-cup capacity. Place an extra-tall trivet or riser (we love these) in the bottom of the pot and place the rice-filled cooking pan on the trivet. Check that the bottom of the cooking pan is not in contact with the sauce mixture and that the top of the cooking pan does not exceed the Max line on the Instant Pot. (Note: If you don't have these accessories, you can also make the rice separately!)
Using the display panel select the Manual or Pressure Cook function*. Use the +/- buttons and program the Instant Pot for 10 minutes.
When the time is up, let the pressure naturally release for 10 minutes, then quick-release the remaining pressure.
Open the pot and carefully remove the rice pan and riser. Fluff the rice with a fork and set aside.
Mix together the cornstarch with 2 tablespoons cold water in a small bowl and stir into the sauce until thickened, cooking 2-3 minutes, returning to Saute' mode if needed.
Add the green onions to the pot, stir to mix. Select Cancel to turn off the pot and let the mixture cool for 5 minutes before serving.
Serve beef and sauce over rice and garnish with sesame seeds.
Recipe Notes
*If your Instant Pot does not have a Manual function, use the Pressure Cook function.