Mac 'n' Trees
A healthy and fun plant-based twist on a comfort food classic — get ready for this recipe to become a new family-favorite!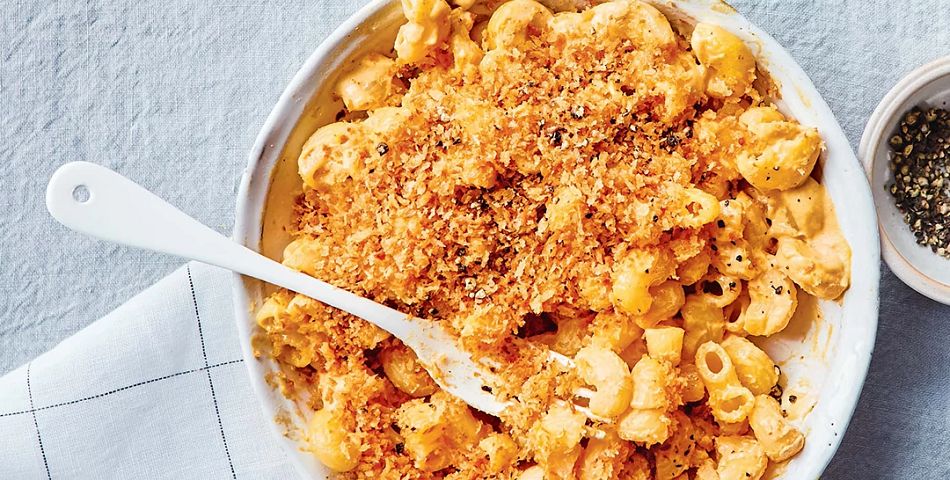 Prep Time:  0 minutes
Cook Time:  12 minutes
Serves:  4 - 6
By:  The Essential Vegan Instant Pot Cookbook by Coco Morante
Ingredients
MACARONI
1 pound elbow macaroni
4 cups water
1 teaspoon fine sea salt
SAUCE
1 cup raw cashews soaked in water for 2 hours at room temperature, or up to overnight in the refrigerator, and drained
1/3 cup water plus more if needed
2 tablespoons nutritional yeast
1-1/2 tablespoons fresh lemon juice
1 clove garlic peeled
1 teaspoon prepared yellow mustard
1 teaspoon Tabasco sauce
1/2 teaspoon fine sea salt plus more as needed
1/4 teaspoon cayenne pepper plus more as needed
Directions
Secure the lid and set the Pressure Release to Sealing. Select the Manual or Pressure Cook setting and set the cooking time for 6 minutes at High Pressure. (The pot will take about 15 minutes to come up to pressure before the cooking program begins.)

To make the sauce: While the pasta is cooking, combine the cashews, water, nutritional yeast, lemon juice, garlic, mustard, Tabasco, salt, and cayenne in a blender. Blend at high speed for about 1 minute, until smooth, scraping down the sides of the blender halfway through, if necessary. Taste for seasoning, adding more salt and/or cayenne, if needed. You can also add an extra splash of water, if you prefer a thinner sauce.

When the cooking program ends, let the pressure release naturally for 5 minutes, then move the Pressure Release to Venting to release any remaining steam. Open the pot and stir in the sauce.

Spoon the macaroni into bowls and serve immediately.