Lemon Curd
Authors Bruce Weinstein & Mark Scarbrough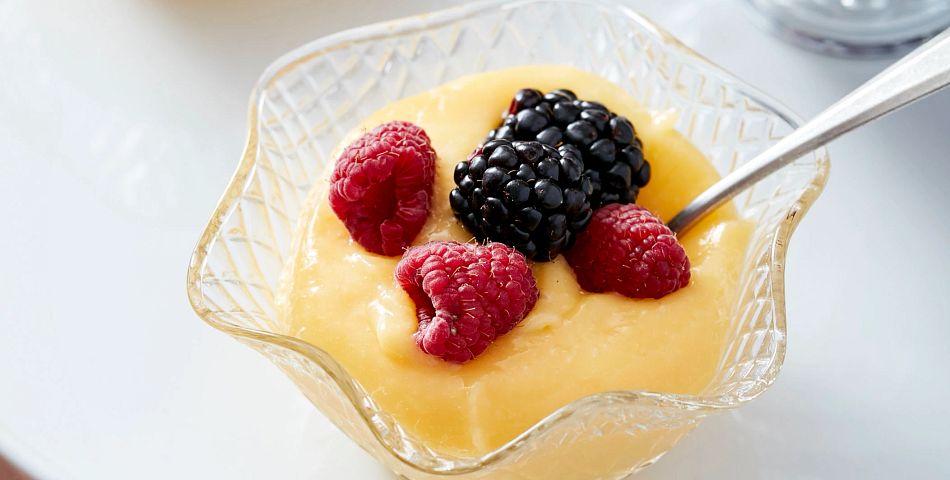 Serves 6
Prep Time 5 minutes
Cook Time 25 minutes
Ingredients
1-1/2 cups Water
1 cup granulated white sugar
3 large eggs plus 3 large egg yolks at room temperature
1 tablespoon finely grated lemon zest optional
1/2 cup lemon juice at room temperature
1/4 teaspoon table salt
3/4 stick butter melted and cooled to room temperature, 6 tablespoons
Directions
Pour the water into the insert set in a 5-, 6-, or 8-quart Instant Pot. Put a pressure-safe rack or trivet in the insert.
Whisk the sugar, eggs, egg yolks, lemon zest (if using), lemon juice, and salt in a 2-quart, 7-inch-round, high-sided, pressure- safe baking or soufflé dish until smooth. Whisk in the butter until uniform. Do not cover the baking dish. Set it on the rack and lock the lid on the pot.
For the MAX model: Set the pot for Pressure Cook and set the level to Max. Set the time for 4 minutes and make sure the Keep Warm setting is off.
For the other models: Set pot for Pressure Cook or Manual and set to High Pressure. Set the time for 5 minutes and make sure the Keep Warm setting is off.
When the pot has finished cooking, turn it off and let the pressure return to normal naturally for 10 minutes. Then use the quick- release method to get rid of the pot's residual pressure. Unlatch the lid and open the cooker. Whisk the curd in the baking dish until smooth, then use hot pads or silicone baking mitts to transfer the (hot!) dish to a nearby wire rack. Cool for 5 minutes or to room temperature before serving. To store, cover the room-temperature curd with plastic wrap and refrigerate for up to 1 week.
Recipe Notes
These ingredient ratios do not work well for a 3-quart Instant Pot.
For a 10-quart Instant Pot, you must increase the amount of water in the insert to 2 1/2 cups while otherwise completing the recipe as stated.
Recipe Variations
Spoon the lemon curd over vanilla ice cream.
Or scoop it up with shortbread or sugar cookies.
Or put it over raspberries and blackberries (with sweetened whipped cream, too).