Jelly Bomb Doughnuts
By: Donna-Marie Pye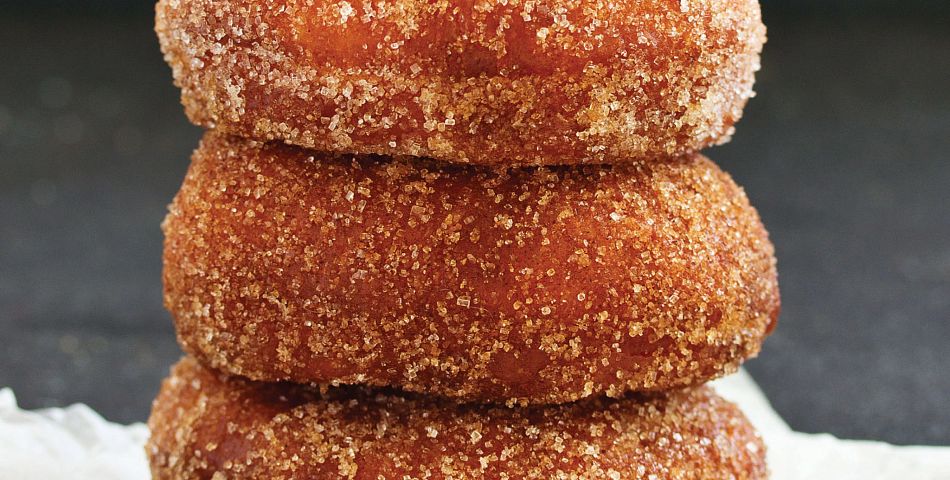 Serves 6-8
Prep Time 120 minutes
Cook Time 7 minutes
Ingredients
2 cups all‑purpose flour (500 mL)
1/4 cup softened butter (60 mL)
1 package quick-rising (Instant) yeast 8 g or 2-1/4 tsp
3 tablespoons granulated sugar (45 mL)
1/2 teaspoon salt (2 mL)
1/2 cup milk gently warmed (see Tip), (125 mL
1 large egg
Olive or coconut oil cooking spray
1 cup seedless raspberry jam (250 mL)
Parchment paper
Rolling pin
Pastry (piping) bag or small sealable bag
Directions
In a large bowl, combine flour and softened butter. Using your fingers, rub the butter through the flour until it is completely broken up and looks like a shaggy dough. Stir in yeast, sugar and salt; mix well.
In a 2-cup (500 mL) measure, whisk together warmed milk and egg. Add to flour mixture and stir with a wooden spoon until mixture can no longer be stirred. Turn out onto a floured surface and knead until the dough is smooth and elastic and only slightly tacky, about 5 minutes. Form into a ball and place in a lightly oiled bowl.
Place dough onto drip tray and cover with plastic wrap. Slid into bottom position of cooking chamber. On the display panel, select Proof, set Temperature to 90°F (32°C) and set Time to 60 minutes, or cover and let sit in a warm area at least 1 hour or until dough has doubled in size. If using Vortex without Proof function, follow directions above, cover with clean tea towel and let rise in a warm location about 40 to 60 minutes.
Line a baking sheet with parchment paper and lightly spray with oil spray. Turn out dough onto lightly floured work surface and roll out to a 1⁄2-inch (1 cm) thick 6- by 8-inch (15 by 20 cm) rectangle.
Using a 3-inch (7.5 cm) round doughnut cutter or rim of a glass, cut six to eight doughnuts, kneading scraps together and rerolling into more doughnut rounds. Spray dough rounds on both sides with oil spray and then roll in sugar to coat on both sides. Place doughnuts onto two cooking trays, ensuring they have space around each doughnut, and place in cooking chamber. Select Proof, set Temperature to 90°F (32°C) and set Time to 40 minutes for the second proof. Remove trays from cooking chamber when Proof function is complete. (If your Vortex does not have a Proof function, let rise in a warm location.)
Place drip tray in the bottom of cooking chamber. Using the display panel, select Air Fry, adjust Temperature to 375°F (190°C) and set Time to 8 minutes. Preheat Vortex until display indicates Add  Food.
Slide one cooking tray into middle position and cook until display indicates Turn Food. Turn doughnuts over and return tray to middle position. Cook until golden. Let cool 5 minutes, then transfer to a wire rack and cool completely. Repeat with second tray.
Put jam into a pastry (piping) bag or small sealable bag with the corner snipped off. Using a sharp pointed knife, poke a hole into the side of the doughnut then squeeze in some jam. Serve warm.
Recipe Notes
Tips Milk should be warmed only to about 100 to 110°F (38 to 43°C). If you get it too hot, it will kill the yeast and your doughnuts will not rise.
Doughnuts can also be filled with pastry cream, vanilla or chocolate custard, or lemon or lime curd.