Instant Pot Duo Crisp + Air Fryer - Party Cassoulet
This rustic French dish is usually prepared with confit duck legs but chicken thighs make an easy substitute. This is a hearty heart-warming dish on a chilly winter night.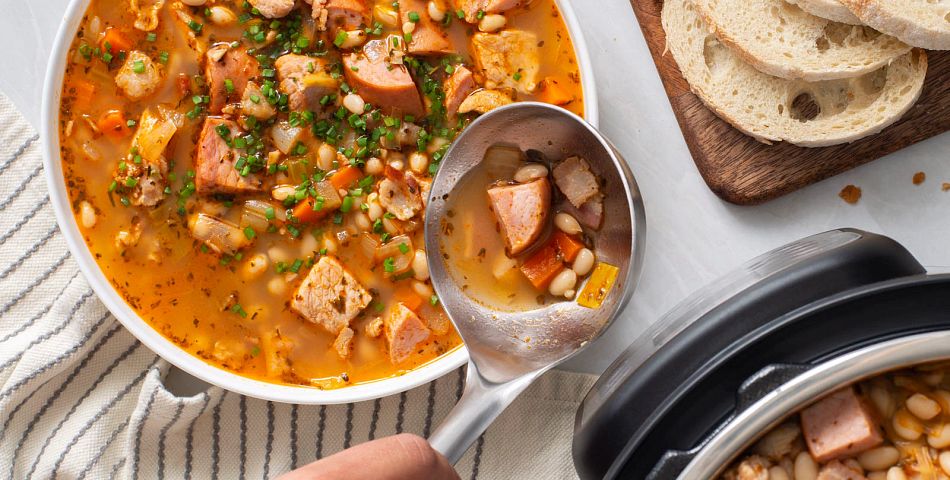 Prep Time: 20 minutes + 8 hours soaking time
Cook Time: 70 minutes
Servings: 4 servings
Ingredients
1 cup dried white navy beans
4 bone-in chicken thighs
1/2 teaspoon each salt and pepper divided
4 thick bacon slices chopped
1 onion diced
1 celery stalk diced
1 carrot chopped
1 leek chopped
3 garlic cloves chopped
1/2 teaspoon herbes de Provence
2 tablespoons tomato paste
1/2 cup dry white wine
2 thyme sprigs
2 bay leaves
1 pound pork stewing meat
8 ounces kielbasa sausage cut into large chunks
2 1/2 cups sodium-reduced chicken broth
1 cup packed French bread torn into 1/2 inch pieces
1/4 cup grated parmesan cheese
3 tablespoons olive oil
2 tablespoons finely chopped fresh chives
Directions
Soak beans in water overnight. Drain and rinse; set aside.
Season chicken thighs with 1/4 tsp each salt and pepper; set aside.
Add bacon to inner pot of Instant Pot Duo Crisp + Air Fryer. With lid off, select Saute, then set to High Temperature. Cook for 5 to 7 minutes or until fat begins to render and bacon is crispy. Transfer bacon to paper towel–lined plate.
Place chicken thighs in pot, skin side down. Cook for 3 to 5 minutes per side or until starting to brown. Transfer chicken to plate.
Stir in onion, celery, carrot, leek, garlic, herbes de Provence, and remaining salt and pepper. Cook for 3 to 5 minutes or until vegetables start to soften. Stir in tomato paste. Cook for 1 minute. Stir in wine, thyme sprigs and bay leaves; bring to boil.
Press Cancel. Layer soaked beans, chicken, pork stewing meat, kielbasa and reserved bacon over top. Pour in broth.
Place lid on pot and lock in place to seal. Pressure Cook on High Pressure for 30 minutes.
When pressure cooking is complete, Naturally Release the pressure. Once pressure is released, remove the lid. Discard bay leaves.
Stir together bread, Parmesan cheese and olive oil. Sprinkle over top of casserole. Using the Air Fryer Lid select Roast at 400°F  for  3 to 5 minutes or until topping is golden brown and toasted. Sprinkle with chives.
Recipe Notes
Serve cassoulet with a fresh and simple salad of hearty greens.
Substitute 2 chicken legs for chicken thighs if desired.