Instant Pot Duo Crisp + Air Fryer - Loaded S'mores Blondies
By: Instant Pot Culinary Team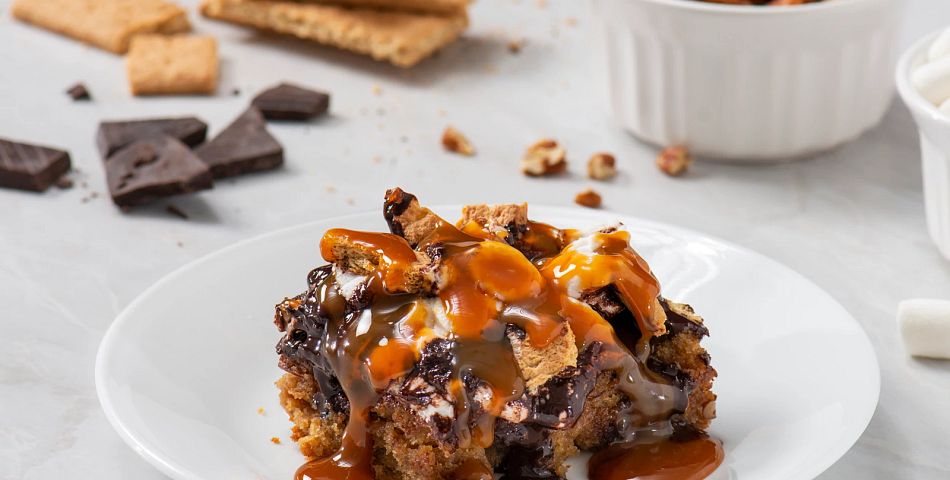 Prep Time: 15 minutes
Cook Time: 30 minutes
Servings: 8 servings
Ingredients
1 cup all-purpose flour
1 teaspoon baking powder
1/2 teaspoon salt
1 cup brown sugar
1/2 cup butter melted
1 egg
1 teaspoon vanilla extract
2/3 cup chopped pecans divided
1/2 cup mini marshmallows
1/2 cup dark chocolate chunks
4 square graham crackers torn into pieces
Pinch of large flaked sea salt
1/4 cup dulce de leche
Directions
Grease 6-or 7-inch round baking pan and line bottom with parchment paper; set aside. Whisk together flour, baking powder and salt; set aside.

In separate bowl, stir together brown sugar and melted butter. Stir in egg. Stir in vanilla; stir in flour mixture just until combined. Fold in 1/2 cup pecans. Scrape batter into prepared baking pan; smooth top.

Ensure that inner pot of Instant Pot Duo Crisp + Air Fryer is dry. Place trivet/steam rack in inner pot; place baking pan, uncovered, on top, using foil or silicon sling for easy removal.

Using the Air Fryer Lid select Bake at  350°F for  25 minutes or until toothpick inserted in center comes out with just a few moist crumbs clinging to it.

Sprinkle marshmallows, chocolate, graham crackers, remaining pecans and sea salt over top. Drizzle with dulce de leche.

Using the Air Fryer Lid select Broil for 3 to 5 minutes or until chocolate is melted. Lift out carefully from inner pot; let cool completely.
Recipe Notes
Substitute walnuts, hazelnuts, peanuts or almonds for pecans.