Ginger Almond Oatmeal
This warm oatmeal with zesty ginger flavor is accented with the perfect crunch from almonds and cashews.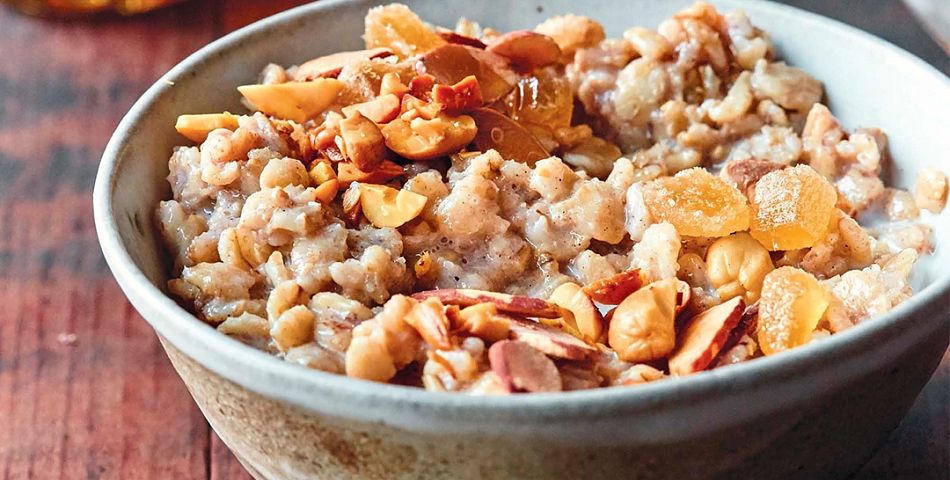 Prep Time: 5 minutes
Cooking Time: 30 minutes
Servings: 4
By: The Essential Indian Instant Pot Cookbook by Archana Mundhe
Ingredients:
1 cup rolled oats
2-1/2 cups low-fat milk
1 tablespoon brown sugar
1 teaspoon grated fresh ginger heaping
1/2 teaspoon ground cardamom
1/2 teaspoon ground cinnamon
1/4 teaspoon kosher salt
1 pinch saffron
1 tablespoon raw cashews coarsely chopped, plus more for serving
1 tablespoon sliced almonds plus more for serving
Maple syrup for serving
Instructions:
Pour 1 cup water into the Instant Pot and place the wire-metal steam rack in the pot.

In an oven-safe glass bowl that will fit in the Instant Pot, combine the oats, 1 1/2 cups of the milk, the brown sugar, ginger, cardamom, cinnamon, salt, saffron, cashews, and almonds and stir together. Place the bowl of oats on the rack.

Secure the lid and set the Pressure Release to Sealing. Select the Pressure Cook or Manual setting and set the cooking time for 10 minutes at high pressure.

Let the pressure release naturally for 10 minutes, then move the Pressure Release to Venting to release any remaining steam. Open the pot and stir the remaining 1 cup milk into the oatmeal until combined.

Ladle the oatmeal into bowls, sprinkle with almonds and cashews, drizzle with maple syrup, and serve.
Recipe Notes
Vegan variation: Substitute non-dairy milk, such as almond milk, for the low-fat milk.