Firehouse Chili
True comfort in a bowl — this fantastic chili is full of bold flavors with the perfect amount of heat!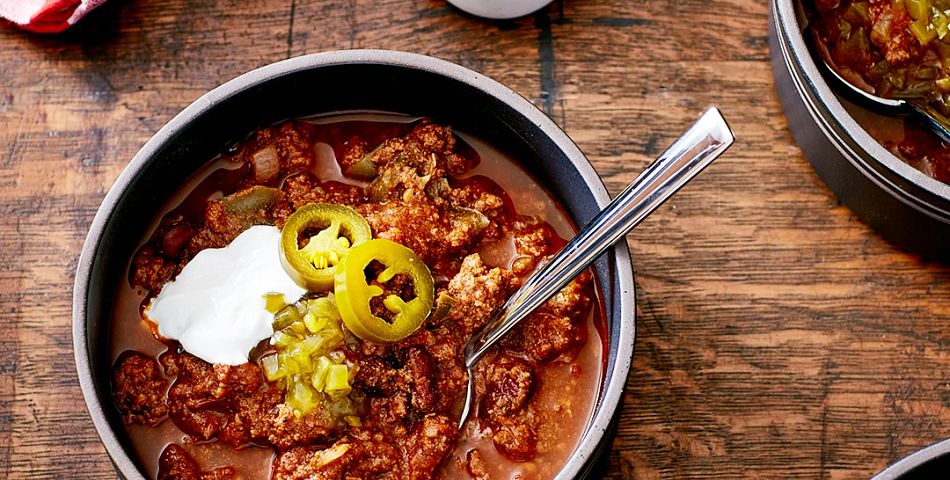 Cook Time:  15 minutes
Prep Time:   23 minutes
Serves:  6
By:  The Instant Pot Bible by Bruce Weinstein
Ingredients
2 tablespoon olive, vegetable, corn, or canola oil
2 medium green bell peppers stemmed, cored, and chopped (2 cups)
1 medium yellow onion chopped (1 cup)
2 medium garlic cloves peeled and minced (2 teaspoons)
2 pounds plum or Roma tomatoes chopped (4 cups)
1/4 cup standard chili powder
1 tablespoon dried oregano
2 teaspoon ground cumin
1 teaspoon ground coriander
1 teaspoon table salt
15-ounce red kidney beans drained and rinsed (1-2/3 cups)
3/4 cup chicken broth
2 pounds lean ground beef
1/4 cup tomato paste
Directions
Press Saute', set time for 10 minutes.
Pour the oil into a 6-quart cooker to warm for a minute or two. Then add the bell pepper, onion, and garlic. Cook, stirring often, until the onion softens, about 5 minutes. Stir in the tomatoes and continue cooking, stirring several times, until they begin to soften, about 2 minutes.
Stir in the chile powder, oregano, cumin, coriander, and salt until fragrant, just a few seconds. Add the beans and broth, then crumble in the ground beef and stir well. Turn off the Saute' function and lock the lid onto the pot.
Optional 1 Max Pressure Cooker
Press Pressure cook on Max pressure for 6 minutes with the Keep Warm setting off.
Optional 2 All Pressure Cookers
Press Bean/Chili or Pressure cook (Manual) on High pressure for 8 minutes with the Keep Warm setting off.
Option 3 Slow Cook
Press Slow Cook option on High for 3 hours with Keep Warm setting off (or on for no more than 2 hours)
If you've used a pressure setting, when the machine has finished cooking, use the quick-release method to bring the pot's pressure back to normal.
Unlatch the lid and open the cooker.
Press Saute', set time for 5 minutes.
Stir in the tomato paste. Bring to a full simmer, stirring all the while. Stir for 2 or 3 minutes at a full simmer until a little bit thickened and almost irresistible. Turn off the Saute' function and remove the hot insert from the cooker to stop the cooking.
Recipe Notes
For a 3-quart cooker, you must use 1/2 cup broth and halve the remaining ingredients.
For an 8-quart cooker, you must keep the ingredients as they are but increase the broth to 1-1/4 cups—or simply increase all the ingredients by 50 percent.
Serve with dollops of sour cream or plain Greek yogurt.
And/or serve with spoonful's of pickle relish, or even purchased India relish (a savorier version of pickle relish), as well as bottled hot red pepper sauce.
Use a 50/50 mix of lean ground beef and lean ground pork.