Easy Quinoa Burrito Bowl
Avocados, black beans, corn, quinoa, and cilantro — these hearty burrito bowls are packed with healthy nutrients and delicious Mexican flavours!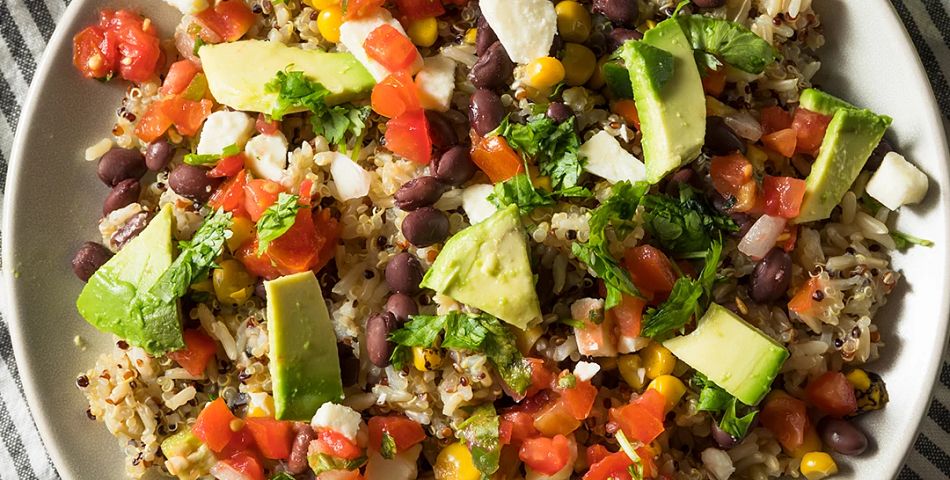 Prep Time:  10 minutes
Cook Time:  35 minutes
Serves:  4- 6
By:  Chop Secrets
Ingredients
EASY QUINOA BURRITO BOWL:
1 tablespoon olive oil
1 small onion finely diced
1 cup quinoa rinsed
3 garlic cloves minced
1 teaspoon kosher salt
1 teaspoon cumin
1/2 teaspoon chili powder
1/2 teaspoon chipotle powder or to taste
1-1/3 cups vegetable broth
15-ounce can black beans, 1 can drained and rinsed
1 cup frozen corn kernels
15-ounce Fire Roasted Tomatoes, 1 can undrained
TO FINISH:
Diced avocado
Chopped tomato
chopped cilantro
Lime juice
Directions
Add olive oil to the Instant Pot. Using the display panel select the Saute' function.

When oil gets hot, add onion to the pot and Sauté until soft, about 4 minutes.

Add quinoa, garlic and spices. Cook and stir for 4 minutes more.

Add broth to the pot and de-glaze by using a wooden spoon to scrape any brown bits from the bottom of the pot.

Add beans and frozen corn and stir. Add tomatoes in an even layer on top--do not stir.

Turn the pot off by selecting Cancel, then secure the lid, making sure the vent is closed.

Using the display panel select the Manual or Pressure Cook function*. Use the +/- keys and program the Instant Pot for 8 minutes.

When the time is up, let the pressure naturally release (about 15 minutes).

Stir to mix all ingredients. Serve in bowls topped with avocado, tomato, cilantro and lime juice.
Recipe Notes
*The Manual and Pressure Cook buttons are interchangeable