Duo Crisp + Air Fryer - South Carolina Ribs with Mustard Barbecue Sauce
These fall-off-the-bone baby back ribs with sweet and tangy South Carolina–style barbecue sauce will definitely impress any hungry crowd.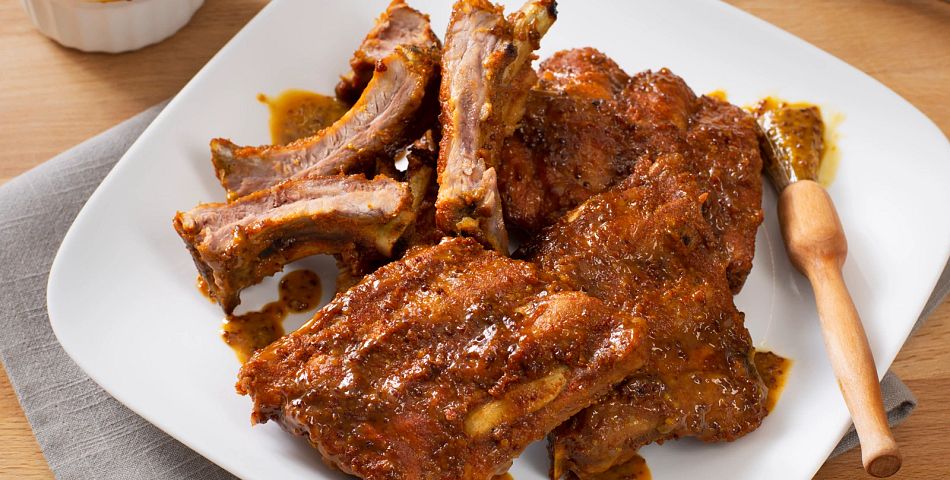 Serves 4
Prep Time 20 minutes
Cook Time 1.25 hours
Spice Rub Ingredients
1 tablespoon mustard powder
1 tablespoon chili powder
1 tablespoon brown sugar
1 tablespoon smoked paprika
1 tablespoon salt
1 tablespoon pepper
2 teaspoons garlic powder
2 teaspoons onion powder
1/4 teaspoon cayenne pepper
2 baby back pork side ribs each cut into 4 pieces, about 2 lb
Mustard Barbecue Sauce Ingredients
Mustard Barbecue Sauce
1 tbsp butter
1 small onion diced
3 garlic cloves minced
1 cup yellow mustard
1/2 cup brown sugar
1/2 cup cider vinegar
1/4 cup honey
1/4 cup grainy mustard
1 tbsp Worcestershire sauce
1 tsp pepper
Rib Ingredients
1 bottle of lager beer 12 fl oz
Directions
Spice Rub: Stir together mustard, chili powder, brown sugar, smoked paprika, salt, pepper, garlic powder, onion powder and cayenne.
Peel off membrane from back of ribs, if needed and discard. Sprinkle ribs all over with spice rub. Transfer to baking tray. Cover with plastic wrap; refrigerate for at least 30 minutes or up to 4 hours.
Mustard Barbecue Sauce: With lid off, select Saute setting on Instant Pot Duo Crisp + Air Fryer and set to High Temperature. Melt butter in inner pot; stir in onion and garlic. Cook for 5 to 7 minutes or until softened.
Stir in yellow mustard, brown sugar, vinegar, honey, grainy mustard, Worcestershire sauce and pepper; bring to boil. Press Cancel. Select Saute setting and set to Low Temperature. Cook, stirring occasionally, for 8 to 10 minutes or until thickened. Transfer to bowl. Let cool completely (do not clean pot).
Ribs: Add spiced ribs and beer to inner pot. Place lid on pot and lock in place to seal. Select Pressure Cook/Manual setting on High Pressure for 15 minutes.
When pressure cooking is complete, Quick Release the pressure. Once pressure is released, remove the lid.
Using tongs, remove ribs from inner pot and drain the cooking liquid. Pat ribs dry with paper towel. Brush ribs all over with some of the barbecue sauce.
Ensure that inner pot is dry; place air fryer basket in pot.
Add ribs, in 2 batches, to the basket, standing upright. Using Air fryer Lid select Broil at 400°F for 18 to 20 minutes or until ribs are heated through and sauce starts to caramelize. Serve with any remaining barbecue sauce for dipping.
Recipe Notes
If desired, brush more sauce over ribs, halfway during the baking time.