Duo Crisp + Air Fryer - Mojo Roast Chicken
This Cuban-style roast chicken is juicy and moist – and loaded with wonderful Caribbean flavors.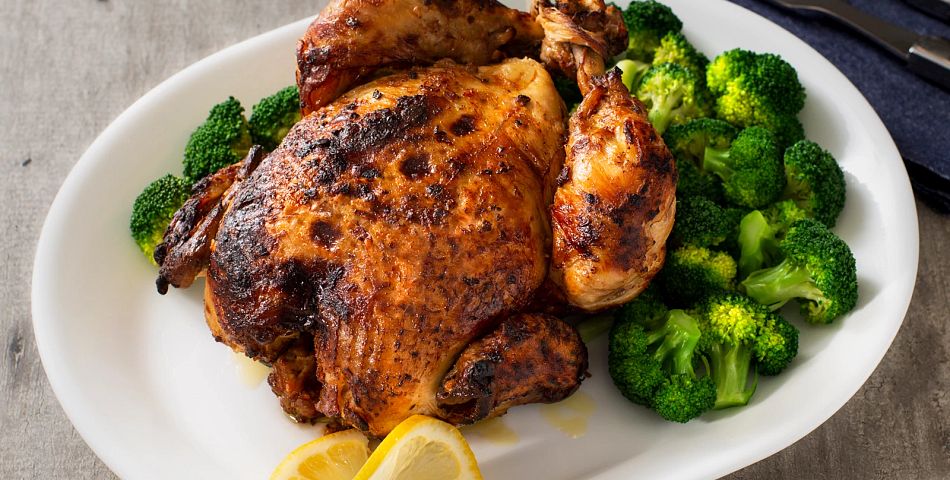 Serves 4
Prep Time 4 hours
Cook Time 45 minutes
Ingredients
2 teaspoons ground cumin
2 teaspoons coarse salt
2 teaspoons dried oregano
2 teaspoons chili powder
1 teaspoon brown sugar
1 teaspoon pepper
1 whole chicken about 3 pounds
2 bay leaves
1 small onion quartered
1/4 cup orange juice
1/4 cup lime juice
1/4 cup lemon juice
1/4 cup olive oil divided
1/2 Serrano chili pepper seeded and diced
1 tablespoon Dijon mustard
4 cloves garlic minced
2 cups sodium-reduced chicken broth
Directions
Stir together cumin, salt, oregano, chili powder, brown sugar and pepper; rub spice mixture all over and inside chicken cavity. Place chicken in large resealable plastic bag; add bay leaves and onion.
Whisk together orange juice, lime juice, lemon juice, 3 tbsp oil, Serrano, mustard and garlic; pour into bag. Seal bag; place bag on tray or in bowl. Refrigerate for at least 4 hours or overnight.
Remove chicken from marinade; reserving marinade. Place chicken breast side down in inner pot of Instant Pot Duo Crisp + Air Fryer. Add broth and reserved marinade.
Place lid on pot and lock into place to seal. Select Pressure Cook/Manual setting on High Pressure for 20 minutes.
When pressure cooking is complete, Quick Release the pressure. Once pressure is released, remove the lid.
Using tongs, remove chicken from inner pot; drain cooking liquid. Pat chicken dry with paper towel.
Ensure that inner pot is dry; place air fryer basket or trivet in pot. Drizzle remaining oil over chicken; place chicken breast side up in basket. 
Using Air fryer Lid select  Roast  at  400°F for  25 minutes; continue to roast, if needed, for 5 minutes or until internal temperature of chicken reaches 165°F. Let stand for 10 minutes. 
Slice chicken; serve with any drippings if desired.
Recipe Notes
Serve chicken with a squeeze of lime juice.
Garnish with finely chopped fresh cilantro if desired.
Use the marinade for roast pork loin or butt, if desired, adjusting cooking times as needed.