Duo Crisp + Air Fryer - Jalapeño Popper Mac and Cheese
By: Instant Pot Culinary Team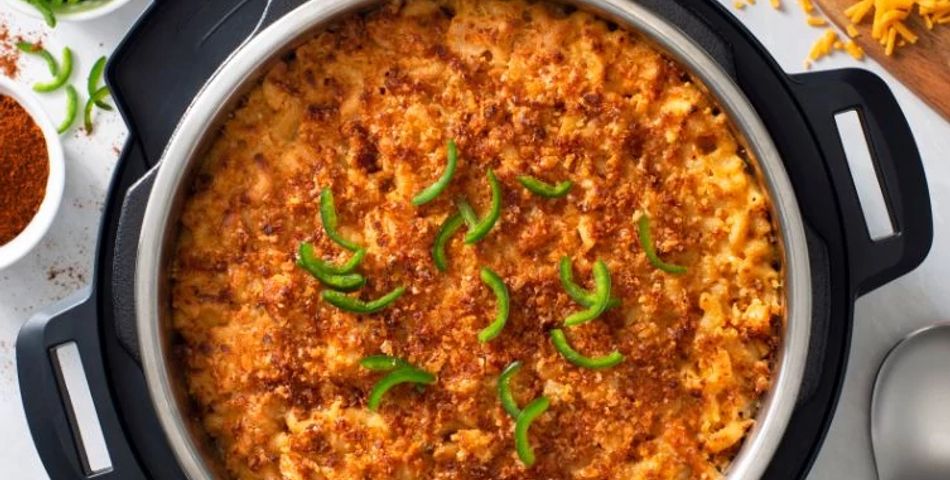 Servings 6-8
Prep Time 5 minutes
Cook Time 2 minutes
Ingredients:
2 jalapeno peppers divided
1/4 cup butter
1 onion diced
3 garlic cloves minced
2 teaspoon chili powder
1 - 1/2 tsp ground cumin
1/4 teaspoon cayenne pepper
16 ounces elbow macaroni cooked 2 minutes less than package directions
2 teaspoons each salt
8 ounces brick-style plain cream cheese cut into cubes
1 - 1/2 cups shredded aged cheddar
1 cup 35% heavy cream
1 cup sour cream
2 tablespoons Dijon mustard
1/3 cup grated parmesan cheese
1/3 cup panko bread crumbs
Instructions:
Seed and dice 1 jalapeño; thinly slice remaining jalapeño. Set aside.

In Instant Pot Duo Crisp + Air Fryer, with lid off, Select Saute setting and set to High Temperature. Melt butter in inner pot. Remove 2 tbsp; set aside. Stir in onion, diced jalapeño, garlic, chili powder, cumin and cayenne pepper. Cook for 2 to 3 minutes or until softened. Press Cancel.

Add macaroni, 4 cups water and salt. Place lid on pot and lock in place to seal. Pressure Cook on High Pressure for 4 minutes.

When pressure cooking is complete, Quick Release the pressure. Once pressure is released, open the lid.

Stir in cream cheese, Cheddar, cream, sour cream and mustard until melted and combined.

Stir together Parmesan, bread crumbs and reserved melted butter. Sprinkle over top of macaroni. Top with reserved sliced jalapeños.

Using Air fryer Lid select  Roast at  400°F for  5 minutes or until bubbling and topping is golden brown.