Duo Crisp + Air Fryer - Coconut Curry with Crispy Tofu
If you love veggies, curry, and tofu, this one's for you — we have a feeling you'll go coco-nuts for this delicious recipe!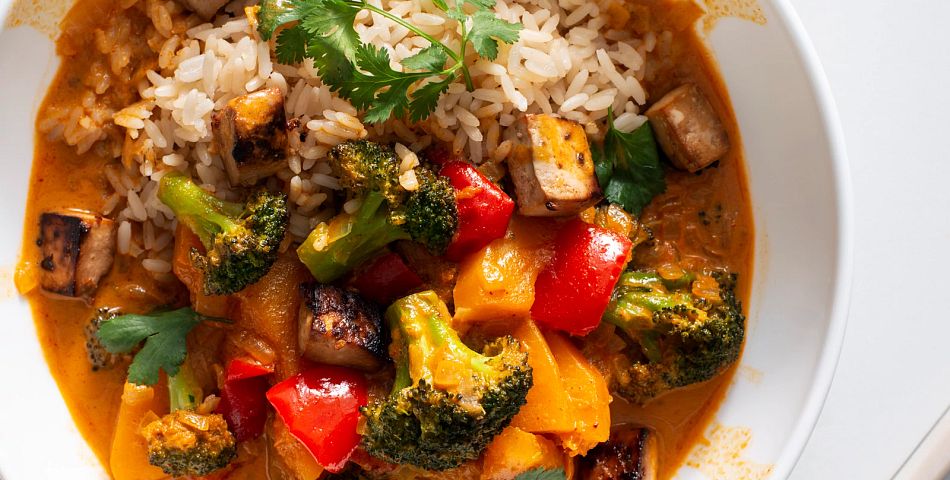 Prep Time:  15 minutes
Cook Time:   30 minutes
Serves:  2 – 3
By:  Chop Secrets
Ingredients
14 - 16-ounce extra firm tofu
2 tablespoons soy sauce
2 tablespoons toasted sesame oil
1 garlic clove minced
1 tablespoon olive oil
1 small onion finely diced
1 head broccoli cut into florets
1 red pepper chopped
2 yellow squash cut into half moons
2 tablespoons red curry paste
2 teaspoons kosher salt
15-ounce can of coconut milk
2 cups cooked rice for serving
Chopped cilantro for garnish (optional)
Directions
Open tofu, drain, then enclose in a clean towel and press by setting a heavy pan on top of it for 15 minutes. Drain well, then cut into 1/2-inch cubes. 

Combine soy sauce, toasted sesame oil and garlic in a zip-top bag, add tofu and marinate for 15 minutes. 

Meanwhile, add olive oil to the Instant Pot. Using the display panel select the Saute' function, then Start. When olive oil is hot, add the onions to the pot and saute until soft, 3-4 minutes. 

Add broccoli, red pepper, squash, curry paste and salt. Cook and stir until curry paste is evenly distributed, 2 - 3 minutes.

Add coconut milk and stir to combine. 

Press Cancel then secure the Pressure Cooking Lid. Using the display panel select the Pressure Cook function. Adjust the time to 0 minutes, then select Start. 

When the time is up, quick-release the pressure. Select Cancel then empty the vegetables and curry sauce into a serving dish and cover loosely with foil. Rinse the pot and return it to the cooker base.

Drain the tofu. Place half the tofu in the bottom of the Air Fryer Basket. Insert the Broil Tray and place the remaining tofu on the Broil Tray. 

Place the Air Fryer Basket on its base and lower into the pot. Secure the Air Fryer Lid. Using the display panel, select the Air Fry function. Adjust the temperature to 375°F and the time to 15 minutes, then select Start.

When the display indicates "Turn Food", remove the Air Fryer Basket and shake the tofu to ensure even cooking (be sure to always place the hot lid on the protective pad). Replace the basket and Air Fryer Lid and continue cooking. 

Serve rice topped with tofu and curried vegetables. Garnish with cilantro (optional).