Caramel Apple Cake
There's nothing more comforting then a good apple dessert and this rustic olive oil cake with caramelized apples fits the bill nicely.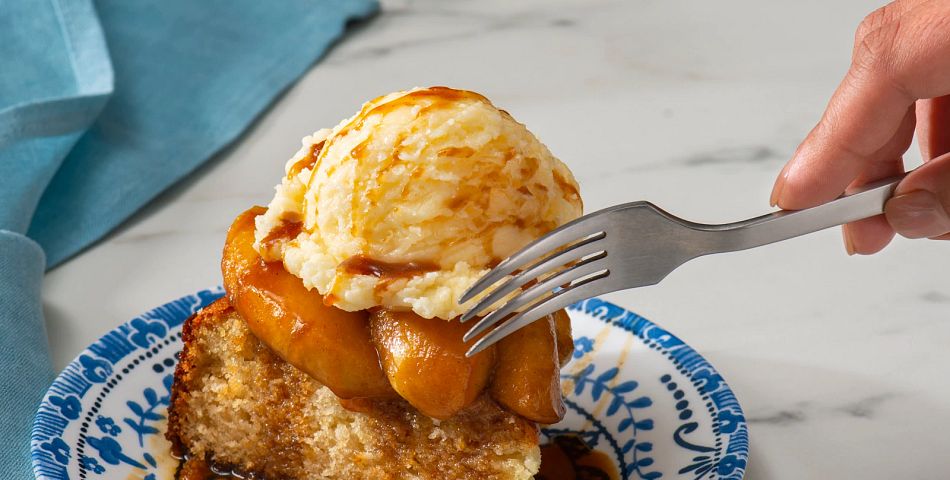 Serves 6
Prep Time 20 minutes
Cook Time 40 minutes
Cake Ingredients
1 cup all-purpose flour
1/4 cup almond flour
1/4 cup fine cornmeal
1 teaspoon baking powder
1/2 teaspoon baking soda
1/4 teaspoon salt
3/4 cup granulated sugar
2 eggs
2 tbsp honey
3/4 cup plain 2% yogurt
1/2 cup olive oil
2 teaspoons lemon zest
1 teaspoon vanilla extract
Caramelized Apple Ingredients
2 tablespoons butter
1/2 cup granulated sugar
2 tablespoons Corn syrup
1/4 tsp ground cinnamon
4 slices apples peeled, cored and cut into 2-inch
1/2 cup granulated sugar
2 tablespoons Corn syrup
1/4 teaspoon ground cinnamon
Directions
Cake: Whisk together flour, almond flour, cornmeal, baking powder, baking soda and salt; set aside.
In separate bowl, beat together sugar, eggs and honey until light and fluffy. Beat in yogurt, olive oil, lemon zest and vanilla for about 1 minute or until combined. Stir in flour mixture just until combined. Pour batter into parchment paper-lined 8-inch (20 cm) springform pan.
Place trivet in Instant Pot Duo Crisp + Air Fryer; place springform pan on top.
With the Air Fryer lid on, select Bake at  350°F. Cook for  25 to 30 minutes or until toothpick inserted in center of cake comes out clean. Let stand for 10 minutes.
Caramelized Apples: With the Instant Pot Duo Crisp + Air Fryer lid off, select Saute setting and set to Medium Temperature. Melt butter in inner pot; stir in apples, sugar, corn syrup and cinnamon. Cook for 8 to 10 minutes or until apples are tender, saucy and caramelized. Press Cancel.
Cut cake into 6 slices. Serve warm or cold with apple mixture.
Recipe Notes
Serve warm with a scoop of vanilla ice cream or a dollop of whipped cream.