Butterscotch Cheesecake
By: Bruce Weinstein & Mark Scarbrough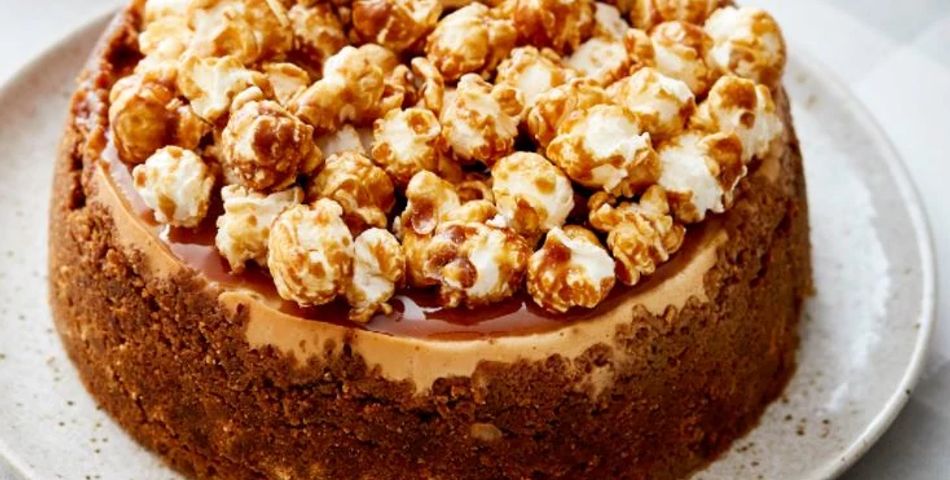 Recipe uses 5-, 6-, or 8-quart Instant Pot®
Serves one cheesecake
Prep time 10 minutes
Ingredients
2 large eggs at room temperature
1 pound regular cream cheese at room temperature, do not use low-fat or fat-free
1-½ cups water
1-½ cups graham cracker crumbs
1 cup caramel corn
½ cup butter melted and cooled for 10 minutes
¼ cup packed dark brown sugar
¼ cup purchased butterscotch ice cream topping
3 tablespoon heavy cream
2 tablespoon all-purpose flour
1 tablespoon molasses
1 teaspoon vanilla extract
¼ teaspoon grated nutmeg
¼ teaspoon table salt
Directions
Pour the water into the insert set in a 5-, 6-, or 8-quart Instant Pot. Put a pressure-safe rack or trivet in the insert.

Generously coat the inside of a 7-inch round springform pan with baking spray. Mix the graham cracker crumbs, butter, and molasses in a medium bowl until uniform and well moistened. Pour this mixture into the prepared pan and press an even crust across the bottom of the pan and about halfway up the sides.

Put the cream cheese, brown sugar, butterscotch topping, eggs, cream, flour, vanilla, nutmeg, and salt in a food processor. Cover and process until smooth, stopping the machine at least once to scrape down the inside of the canister.

Use a rubber spatula to gently pour this mixture into the prepared pan (be gentle so as to keep the crust intact). Smooth the top and rap the pan on the counter once or twice to get rid of any air bubbles. Set the pan on the rack and lock the lid on the pot.

Set Instant Pot for Pressure Cook or Manual on High Pressure for 25 minutes. Ensure the valve is closed and the keep warm setting is off.

When the pot has finished cooking, turn it off and let the pressure return to normal naturally, about 20 minutes. Unlatch the lid and open the cooker. Use a paper towel to blot any drips off the top of the cheesecake. Use hot pads or silicone baking mitts to transfer the (hot!) pan to a nearby wire rack. Cool for 15 minutes, then unlatch the ring side from the springform pan but do not remove the ring side. Cover the cheesecake with plastic wrap and refrigerate for at least 1 hour or up to 3 days.

Once the cheesecake has been properly chilled, spread about ½ cup butterscotch ice cream topping over the cheesecake, then top with 1 cup caramel corn (that is, caramel-coated popcorn). Uncover and remove the side ring before slicing and serving.