Basic Beef Stew
By: Pillsbury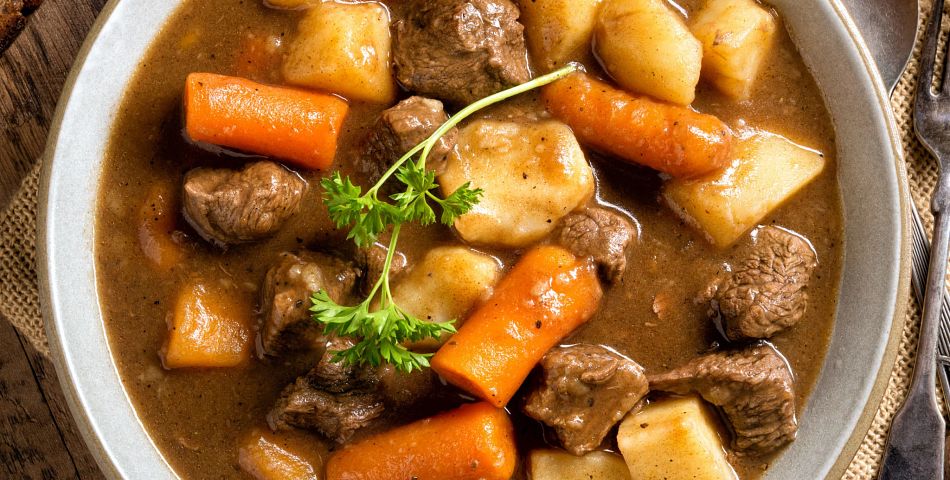 Prep Time: 45 minutes
Cook Time: 54 minutes
Servings: 8 servings
Ingredients
2 pounds Beef Stew Meat
2 teaspoons salt
1 teaspoon pepper
2 tablespoons butter
1 tablespoon Muir Glen™ organic tomato paste from 6-oz can
2 cups chopped onions
2 cups diced peeled carrots 1-inch
2 cups diced peeled russet potatoes 1-inch
1 cup Progresso™ beef flavored broth from 32-oz carton
2 tablespoons cornstarch
2 tablespoons Water
Directions
In large bowl, toss beef with salt and pepper. Spray 6-quart Instant Pot™ insert with cooking spray. Select SAUTE; adjust to normal. Melt butter in insert. Add beef in 2 batches, and cook 2 to 4 minutes on first side until browned. Turn and cook 2 to 4 minutes longer on second side or until browned. Select CANCEL.

Return beef to insert. Stir in tomato paste. Stir in onions, carrots and potatoes. Stir in broth. Secure lid; set pressure valve to SEALING. Select MANUAL; cook on high pressure 45 minutes. Select CANCEL. Set pressure valve to VENTING to quick-release pressure.

In small bowl, beat cornstarch and water with whisk. Select SAUTE, and adjust to normal; heat liquid to simmering. Gently stir in cornstarch mixture; cook 30 to 60 seconds, stirring frequently, until thickened. Select CANCEL.
Recipe Notes
Instead of 2 pounds of stew meat, you can purchase a 2 - 1/2- to 3 pound beef chuck roast, and cut it yourself.
Trim off the fat, and cut into 2-inch pieces. You should end up with about 2 pounds of meat.
Top with chopped fresh parsley for a pretty, fresh garnish.