Baileys Lava Cakes
Rich, gooey, warm, and chocolatey with a hint of Baileys® Original Irish Cream . . . these little cakes are irresistible. Just go make them!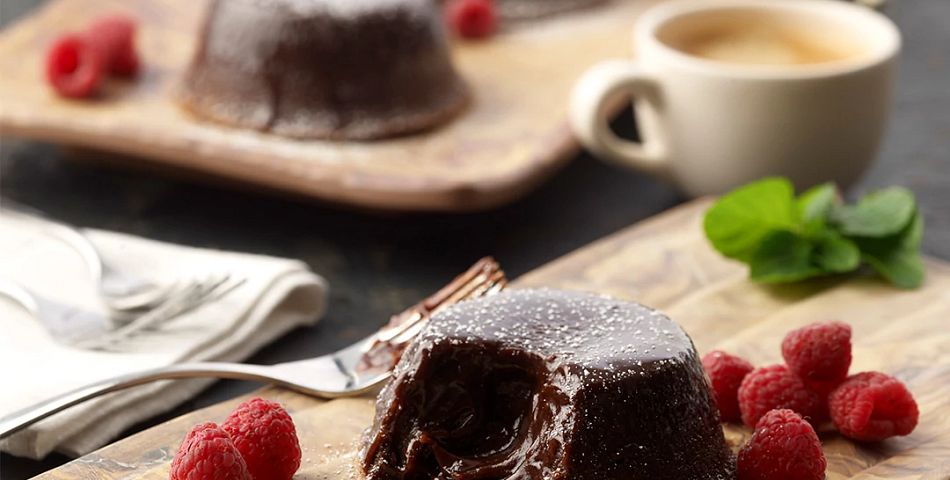 Serves 4
Prep Time 10 minutes
Cook Time 8 minutes
By: Instant Pot Holiday Cookbook by Heather Schlueter
Ingredients for the Ramekins
2 teaspoons butter softened
4 teaspoons sugar
Ingredients for the Batter
6 tablespoons butter
1 cup high-quality semi-sweet chocolate chips
1/2 cup Baileys Original Irish Cream
3 large eggs
1 egg yolk
1 cup powdered sugar plus extra for the topping
6 tablespoons flour
pinch salt
raspberries and fresh mint for serving
Directions 
Smear the inside of the ramekins with the softened butter. Pour 1 teaspoon of sugar into each ramekin and roll it around to evenly coat the inside of the ramekin with sugar.
In a medium-size microwave-safe dish, combine the butter, chocolate chips, and the Baileys Original Irish Cream. Place the dish in a microwave and heat the mixture on medium power for 3 minutes. Remove the dish and give the mixture a good stir.
In a medium-size bowl, beat the eggs and egg yolk together with a fork. Add the chocolate mixture to the bowl and mix well. Add the powdered sugar, flour, and salt to the bowl, and mix them well, until a thick batter forms.
Set the Instant Pot steam rack in the Instant Pot inner pot and add 1 cup of water.
Fill each ramekin, almost to the top, with the batter. Place the ramekins on the steam rack. Secure the lid, ensuring the valve is turned to the Sealing position. Press the Pressure Cook button and set the time to 8 minutes.
When cooking is complete, turn the valve to the Venting position to release the pressure. Remove the lid and take out the ramekins, using oven mitts and tongs.
Let the ramekins sit for 5 minutes, and then run a small knife around the inside of each ramekin to loosen the lava cake. Carefully place a small plate over one of the ramekins and invert the plate so that the lava cake comes out of the ramekin and sits upside down on the plate. Repeat this process for the remaining ramekins. Top the lava cakes with sifted powdered sugar and serve them while they're warm with raspberries and fresh mint.
Remove the cakes from the ramekins as soon as the 5-minute resting time is done to ensure a gooey, liquid center. Allowing the cakes to sit in the ramekins any longer than 5 minutes will result in continued cooking and a more solid center.